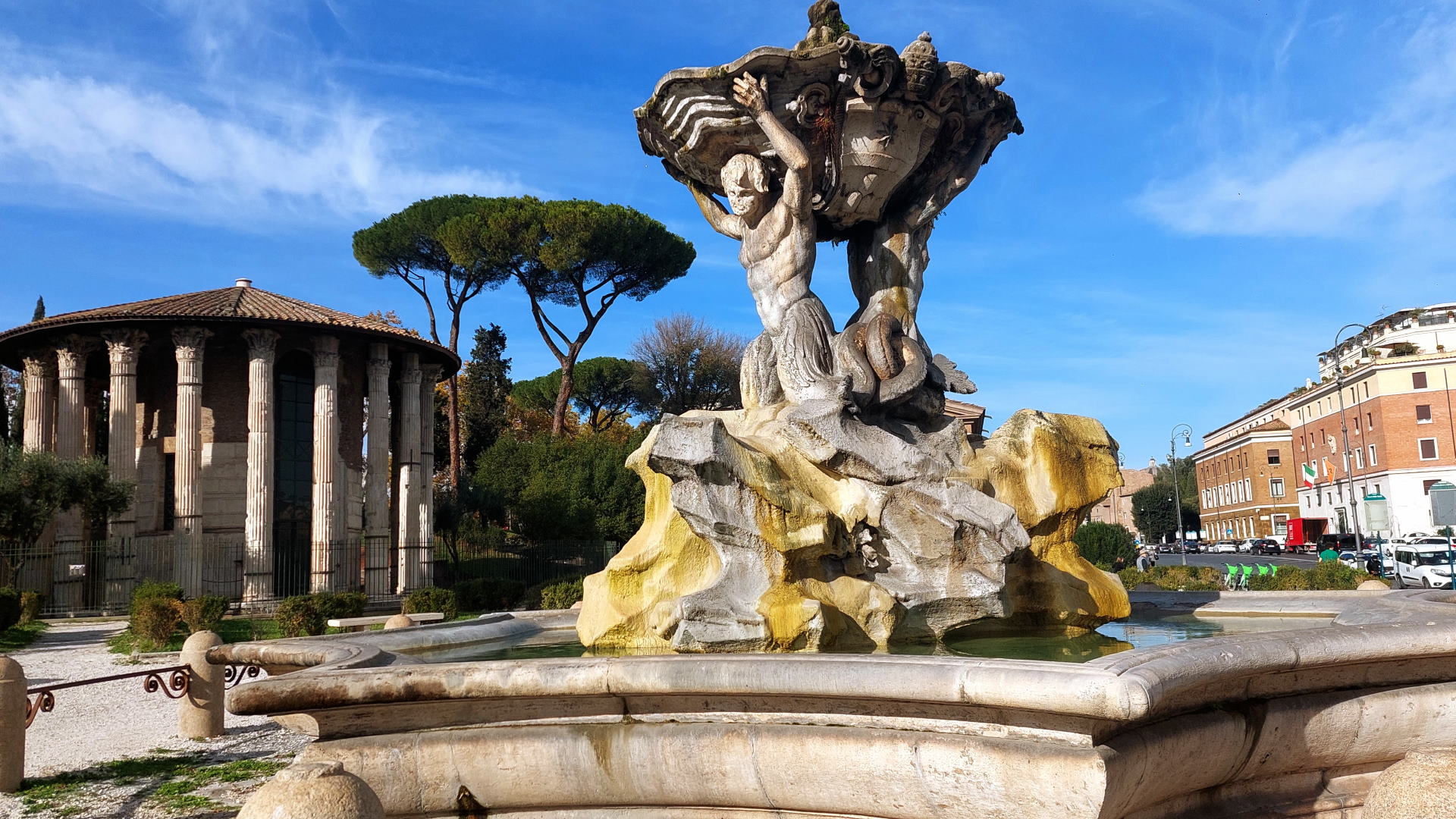 In early 18th-century Rome, the ancient area of the Forum Boarium was still sparsely populated. Although it was subject to the frequent flooding of the Tiber, it was nevertheless very rich in medieval and Roman monuments, such as the great Arch of Janus, and already served by a branch of the Aqua Felice, the first aqueduct built in the city by a pontiff. On the occasion of the restructuring of the square in front of the church of Santa Maria in Cosmedin, home to the world-famous Mouth of Truth, Pope Clement XI Albani therefore decided to leave his own mark on this part of the city as well, with the construction of a fountain a few steps away from the temple of Hercules the Victor.
Thus, on 11 August 1717, the foundation stone of the new fountain was laid. The project had been entrusted to architect Carlo Francesco Bizzaccheri, who took inspiration, both for the subject represented and style, by Gian Lorenzo Bernini's Triton Fountain in Piazza Barberini. In homage to the patron, however, the design of the main basin of the fountain represents an octagon with concave sides, so as to recall the eight-tips star that was the heraldic symbol of the family of the Pope.
In the basin, above a large central group of rocks with bushes, two tritons, sculpted by Francesco Moratti, are knelt with raised arms, sustaining a large oyster-shaped shell that serves as upper basin. On the outer rim of the upper basin stand two other heraldic coats of arms of the Albani family. On the edges of the basin, according to the original plan, four masks had been placed, then removed in the 19th century perhaps due to lack of water. The same fate befell in the early 20th century the adjoining public fountain that the pontiff had commissioned to serve the citizens and the herds of cattle passing through to the nearby Roman Forum: dismantled during the construction work of the Tiber embankments, it was moved to the nearby Lungotevere Aventino.
You may also be interested in
Information
Address
POINT (12.481389 41.888722)
Contacts
Web site:
www.sovraintendenzaroma.it/i_luoghi/roma_medioevale_e_moderna/fontane/fontana_dei_tritoni_in_piazza_bocca_della_verita
Condividi
Location
Fontana dei Tritoni, Piazza della Bocca della Verità
Piazza della Bocca della Verità
41° 53' 19.3992" N, 12° 28' 53.0004" E
To find out about all accessibility services, visit the Rome accessible section.