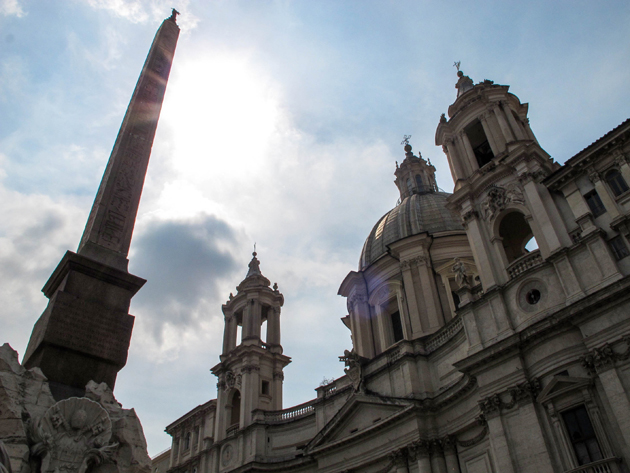 Sant'Agnese in Agone  is a 17th-century Baroque church. It faces onto the Piazza Navona and the site where the Early Christian Saint Agnes was martyred in the ancient Stadium of Domitian. Construction began in 1652 under the architects Girolamo Rainaldi and his son Carlo Rainaldi. After numerous quarrels, the other main architect involved was Francesco Borromini.
You may also be interested in
Informazioni
Indirizzo
POINT (12.472799 41.899237)
POINT (12.4722827 41.8989197)
Orari
Monday - Friday: 9.00am-01.00pm and 03.00pm-07.00pm
Saturday and Sunday: 9.00am-01.00pm and 03.00pm-08.00pm
Closed on Monday
Visitors are not  allowed during Mass (religious services).
Opening times are subject to change. Please call the Church or visit: www.santagneseinagone.org/le-funzioni-religiose/
Contatti
Email:
info@santagneseinagone.org
Telephone:
+39 06 68192134
Web site:
www.santagneseinagone.org
Condividi
Locations
Chiesa di Sant'Agnese in Agone, Piazza Navona
41° 53' 57.2532" N, 12° 28' 22.0764" E
Chiesa di Sant'Agnese in Agone, Via di Santa Maria dell'Anima, 30/a
Via di Santa Maria dell'Anima, 30/a
41° 53' 56.112" N, 12° 28' 20.2188" E