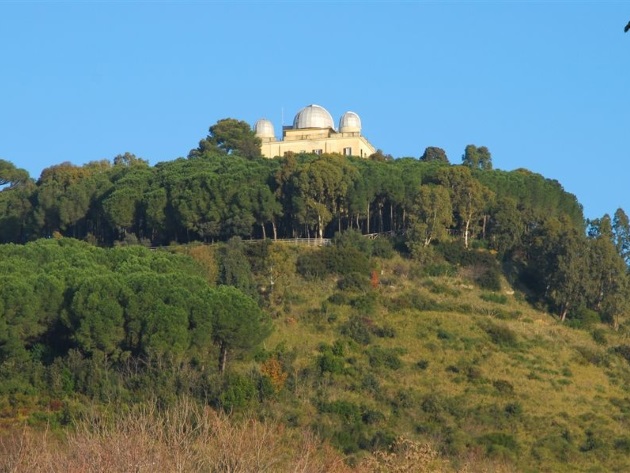 The Park of Monte Mario lies in the north-west region of Rome and is named after the highest of the Farnesina hills (139 metres) dominating the Tiber valley. Geologically, the area is composed of sands and gravels yielding many fossils.
The site was settled as early as prehistoric times and in the ancient Roman period had many residential villas. During the Middle Ages, it was used for vineyards and vegetable gardens, while from the Renaissance the noble families of Rome chose the hill as a place of residence because of its dominating position overlooking the city.
One of the most illustrious examples of Renaissance villa is the Villa Madama. Other historical villas are situated inside the park and include Villa Mazzanti and Villa Mellini, the latter housing the famous Astronomical Observatory.
The park has many plant species that form a unique arrangement in Rome: from Mediterranean woodland with holm-oaks and cork-trees to a mixed woodland with hornbeams, maples, hazels, lime-trees and cornels; while the wettest areas contain white poplars.
The fauna includes rodents, such as the dormouse and long-tailed field mouse, and various bird species such as the kite, grey heron, peregrine falcon, hoopoe and kestrel. The area is also known as a marine fossil deposit: the finds in the area are kept in paleontological museums around the world.
Information
Address
POINT (12.456361 41.922147)
Contacts
Email:
posta@romanatura.roma.it - EcoPoint: romanatura@ecopointlazio.it - PEC: protocollo@pec.romanatura.roma.it
Telephone:
06 35405310 (Romanatura)
Web site:
www.parchilazio.it/montemario
Web site:
https://romanatura.roma.it/montemario
Services
Area gioco attrezzata per bambini
Condividi
Location
Riserva Naturale di Monte Mario, Via Gomenizza, 81
41° 55' 19.7292" N, 12° 27' 22.8996" E
To find out about all accessibility services, visit the Rome accessible section.