The park located on the south-western slope of Colle Celio is obtained from the ancient vegetable garden of the Camaldolese monastery of Saint Gregorio al Celio, of which it preserves in part the plant of the orchard. It is accessed via a staircase which, from the Saint Gregorio climb lined with olive trees, leads to a widening, that forms the central part of the park.
The origins of the area derive from the pre-existing villa of Gordiano, father of Saint Gregorio Magno, which Saint Gregorio himself decided to transform into a refuge for hermits in 580 AD. With the arrival of the monks, the abandoned area became productive and a library, a granary, a stable and other buildings were also built.
During the Middle Ages the monastery passed into different hands: from the Greek Basilian monks who fled the iconoclastic struggles, to the Benedictines in the first half of the 10th century AD, to the Camaldonese monks in 1573. The latter resumed the initial vocation of the assistance and charity area by building a hospitium for the poor.
In 1876 the monastic complex was purchased by the Municipality of Rome and used for municipal services. Currently there is a small factory for the fermentation of milk and a vaccheria, evidence of the activities carried out from the end of the nineteenth century up to the '60s by the San Gregorio Institute. Maintaining a certain continuity with the past, the park is still used today for social and school activities.
The recent arrangement has defined the area in two distinct types of green integrating one into each other. The first is of a natural kind, where the park blends in the shapes of the plant masses with the pre-existing elements, consisting of pine forests or isolated groups of Pinus Halepensis. Taking advantage of the morphology of the ground, paths, stops and panoramic points connect the various levels, which present groups of typical Mediterranean plant essences and medicinal herbaceous species.
The second kind, in the most populated part of the park, is characterized by green, rest and refreshment facilities, in a harmonious distribution of natural and artificial elements alternating patches of vegetation with grassy clearings. The park is closely connected to Villa Celimontana, the aristocratic residence of the Mattei family, and to the Semenzaio of Saint Sisto, the first institution in Rome for the government and development of the city's public parks.
Photo credits: courtesy of Sovrintendenza Capitolina
You may also be interested in
The Church of Santo Stefano Rotondo al Celio
Condividi
Church of San Gregorio al Celio (Santi Andrea e Gregorio al Celio)
Condividi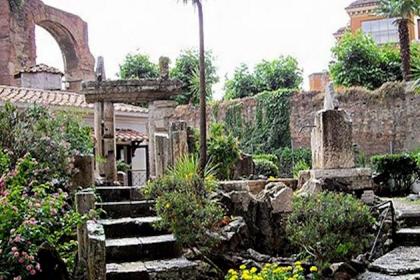 Basilica Hilariana in Celio
Condividi
Information
Address
POINT (12.4898012 41.8855018)
Contacts
Web site:
www.sovraintendenzaroma.it/i_luoghi/ville_e_parchi_storici/passeggiate_parchi_e_giardini/parco_di_s_gregorio_al_celio
Condividi
Location
Parco S. Gregorio al Celio, Salita di San Gregorio
41° 53' 7.8072" N, 12° 29' 23.2836" E
To find out about all accessibility services, visit the Rome accessible section.