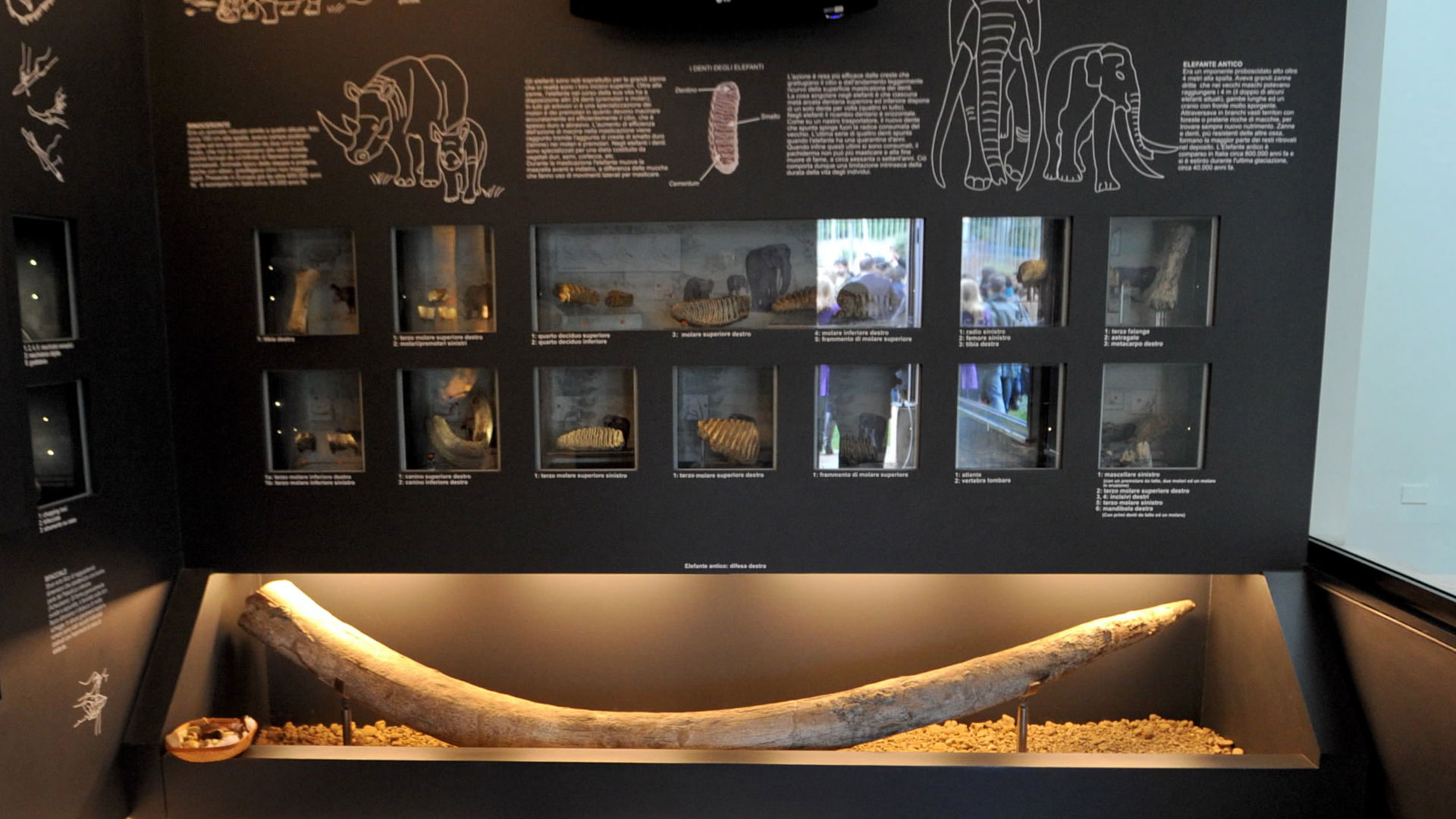 The history of the Casal de 'Pazzi Museum begins with an elephant tusk.
Found in 1981 during the urbanization works of the Rebibbia area, it started an archaeological investigation on an area of over 1,200 square meters, which brought to light the stretch of an ancient river bed.
More than 2000 animal fossils were discovered in the fossil site, belonging to species unthinkable today in the Roman countryside (the ancient elephant, the aurochs, the hippopotamus, the rhinoceros), but also a fragment of skull and over 1,500 artifacts in flint, as a proof of the contemporary presence of men.
The site dates back to about 200,000 years ago, and bears the latest witness to an extraordinary series of Pleistocene deposits that dotted the lower Aniene valley, destroyed by the progress of the city.
The Museum is completed by the installations allowing you to witness the flooding of the ancient bed of the Aniene river  and to explore the landscape of 200,000 years ago, in the Paleolithic environment, among the large elephants that populated the area of Rome at that time through 3D and interactive reconstructions.
The tour includes a view of the fossil site from the top of a walkway. Natural lighting highlights large pinkish boulders and fossil remains: tusks up to 4 meters long, teeth, vertebrae. It is the "archaeological" view, what remains after the excavation.
The area outside the Museum offers a reconstruction of the floristic ensemble that could have characterized the banks of the Aniene about 200,000 years ago, to be relived along a blue path recalling a river path.
In February 2019, a work of street art was also added to the external perimeter wall: the mural Riflessi by Jerico Cabrera Carandang, which reconstructs the natural environment of the place where the Museum stands today in a visionary and engaging way.
Informations
Address
POINT (12.564025 41.928295)
Timetables
For the opening times and guidelines please check the official website
ALWAYS CHECK the WARNINGS PAGE before planning your visit in the museum
Entrance for the disabled
For further information please consult the page Disabled people Access
Contacts
Email:
info@museocasaldepazzi.it
Facebook:
www.facebook.com/museocasaldepazzi
Instagram:
www.instagram.com/museiincomuneroma
Telephone booking:
060608 tutti i giorni ore 9.00 - 19.00 al costo di una telefonata urbana
Twitter:
www.twitter.com/museiincomune
Web site:
www.museocasaldepazzi.it/
Condividi
Location
Museo di Casal de' Pazzi, Viale Egidio Galbani, 6
41° 55' 41.862" N, 12° 33' 50.49" E