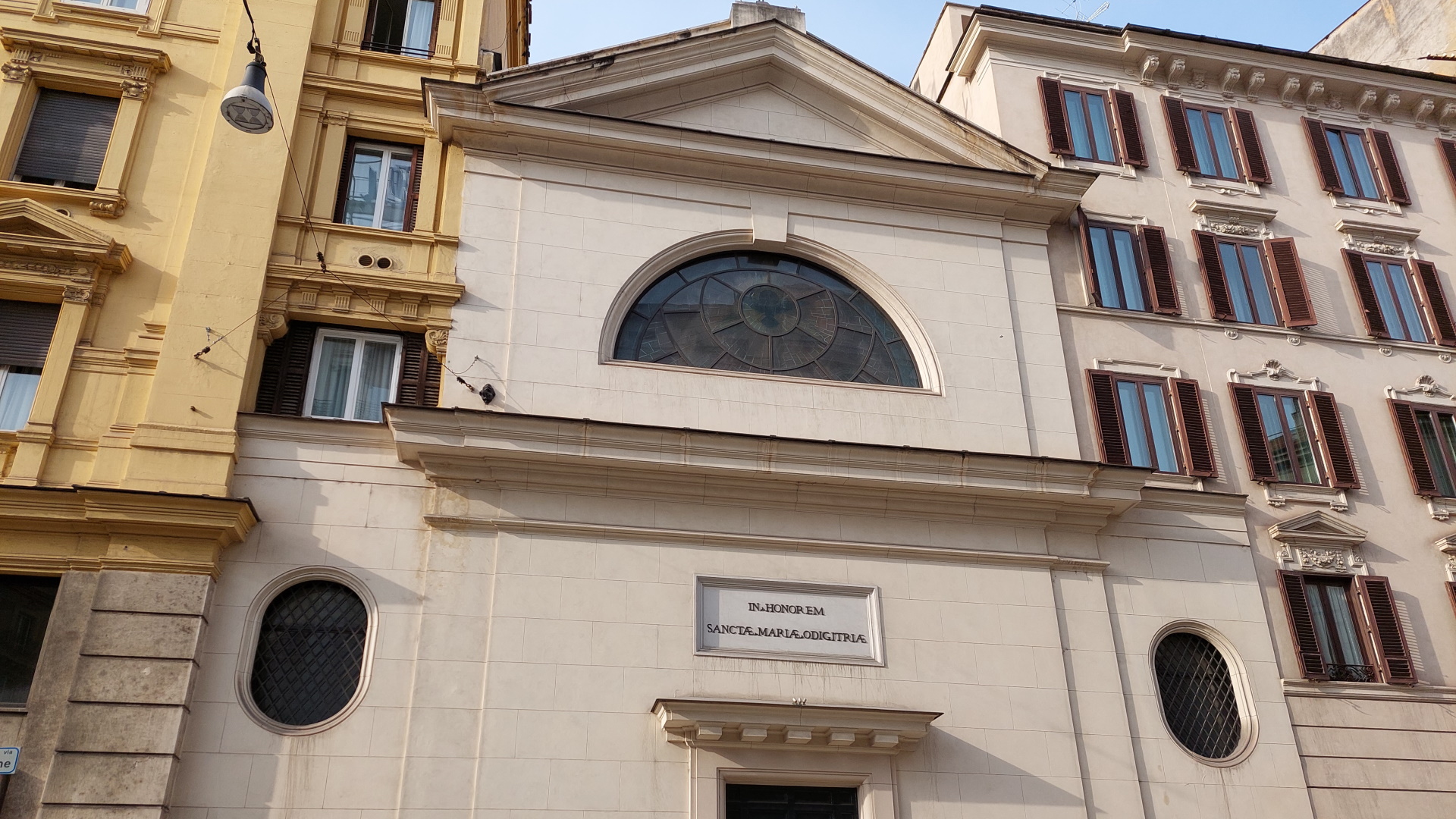 It is nestled and almost camouflaged between two buildings on Via del Tritone, and this is why it often goes unnoticed. The small church in the Rione Colonna began its history in 1594, when a group of Sicilian expatriates resident at Rome obtained recognition as a pious Confraternity (Confraternita di Santa Maria Odigitria or d'Itria) from Pope Clement VIII, and immediately began building a headquarters with a church, an adjoining hospice for pilgrims and a hostel to accommodate young students who had come from Sicily. The building was solemnly consecrated on 15 August 1596. However, the entire complex was looted and devastated during the French occupation of Rome between 1798 and 1814: in 1817 the confraternity then had the church rebuilt to a design by architect Francesco Manno. The simple and sober façade was completed in the late 19th century by Giuseppe Palazzi.
The term "Odigitria" comes from the Greek Hodegetria, meaning "Showing the Way", and refers to a very old style of Byzantine icon depicting the Madonna and Child. The first icon with this iconography was found in Jerusalem by the wife of Emperor Theodosius II would find and taken to Constantinople, soon becoming a major object of worship. Considered the patroness, the "conductress", the "guide" of the city and the entire Eastern Empire, it was carried in solemn processions and invoked by the leaders of the imperial army before marching against the Turks. The icon was lost with the fall of Constantinople in 1453 but its cult did not cease to spread, especially in Sicily, which has the "Madonna Odigitria" as its patron saint.
The church, bathed in soft light that makes it particularly striking, has a single nave and four chapels with 20th-century paintings depicting St. Lucy, St. Agatha, St. Rosalie and Popes Leo II, Agathon and Methodius. The high altar houses a copy of the venerated Byzantine icon, set in a fine gilded wooden frame. In the oratory attached to the church, an 18th-century fresco by Gaetano Sottino depicts Saint Rosalie.
Information
Address
POINT (12.485998 41.902929)
Timetables
For the timetable of the masses and visiting conditions, please consult the contacts.
Contacts
Email:
chiesaodigitria@odigitria.org
Telephone:
06 4885872 - 06 47822976
Web site:
www.odigitria.org
Condividi
Location
Chiesa Santa Maria d'Itria od Odigitria dei Siciliani, Via del Tritone, 82
41° 54' 10.5444" N, 12° 29' 9.5928" E
To find out about all accessibility services, visit the Rome accessible section.