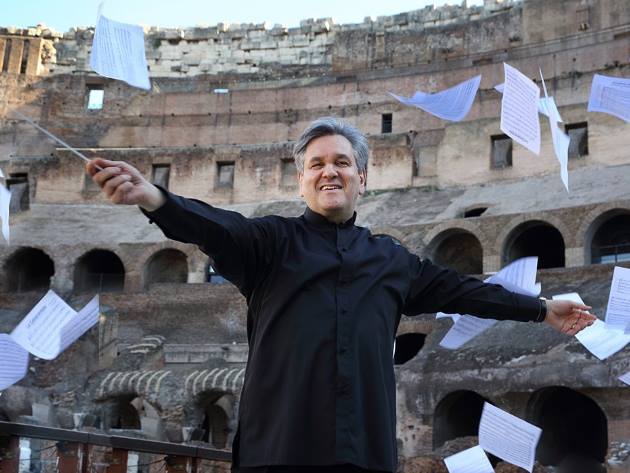 Classical, opera, jazz, pop, symphonic: music plays on the websites and social channels of the great Capitoline institutions, such as Teatro dell'Opera, Auditorium Parco della Musica and Santa Cecilia National Academy. Enjoy unforgettable concerts, young talents and new appointments, because, as H. Heine said, "where words leave off,  music begins".
Digital Theatre - Teatro dell'Opera di Roma 2020-2021 Season: symphonic concerts conducted by prestigious "batons" and operas interpreted by great soloists, with the choir and orchestra of Teatro dell'Opera di Roma. For the "Danza alla Nuvola" series, on programme two enchanting ballets: on 26 January at 20.00, Vivaldi Suite, interpreted by the soloists and the Corps de Ballet of the Teatro dell'Opera di Roma, with the splendid costumes by Anna Biagiotti; on 25 and 28 January, Baroque Suite, with the choreography by Benjamin Pech and Eleonora Abbagnato and the amazing costumes by Laura Biagiotti. On 28 January, "I Puritani" (The Puritans), the opera in three acts by Vincenzo Bellini, based on the historical play "Têtes rondes et Cavaliers" by Jacques François Ancelot and Joseph Xavier Boniface, conducted by Roberto Abbado. New production and a world premiere for "Pandora", the ballet with the choreography by Simone Valastro and music by John Adams, streaming live on 29 January at 20.00 on the YouTube channel. Until 31 January, on Raiplay is available the video of the extraordinary opera buffa "The Barber of Seville" with the amazing music by Gioachino Rossini. Besides, on operaroma.tv, the official YouTube channel, complete operas, ballets, and highlights to enjoy the wonderful opera world.
Accademia Nazionale di Santa Cecilia: the ancient musical institution, directed by Sir Antonio Pappano, offers the public the accessible streaming symphonic concerts. On Facebook, all the updates about the new concerts. On the YouTube channel, available the collection of all the videos of the Academy.; on 29 January at 20.30, streaming live on Raiplay and live on Rai Radio 3, "Mendelssohn Elias", conducted by Antonio Pappano and interpreted by the soprano Rachel Willis Sörensen, mezzosoprano Wiebke Lehmkuhl, tenor Benjamin Bernheim and bass Christof Fischesser.available on demand, the concerts with music by Mahler, Haydn, and Beethoven performed on 8 and 15 January. 
Accademia Filarmonica Romana: streaming on the Facebook page at 21.00, the musical appointment with "Il tempo della fine - quattro vite nell'apocalisse di Görlitz" (The time of the end - four lives in four lives in the apocalypse of Görlitz) on 26 January.
Roma Tre Orchestra: on 25 January, live frome Teatro Palladium, the extraordinary keyboard talents performing at 21.30 on the Roma Tre Orchestra YouTube channel.
Pink Floyd Legend: the songs of the extraordinary English band performed live by the Pink Floyd Legend from the Vinile in Rome with "Talking About", scheduled on 28 January, 11 and 25 February, and 11 March, at 21.30 streaming live on LIVENow.
More details and updates on #CultureRoma #laculturaincasa
Photo credits: Sir Antonio Pappano Official Facebook