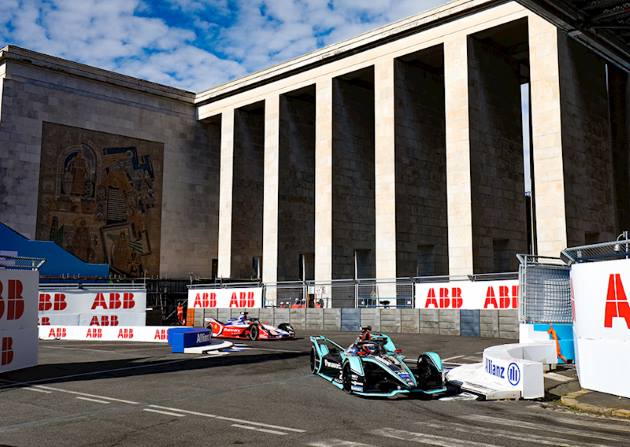 Future and technology: it is the winning combination of the ABB FIA Formula E Championship, the world championship for electric cars, which returns for another exciting race on the difficult track of the Circuito Cittadino dell'EUR.
Rome E-Prix 2020 is the first of the European races: 24 cars compete on a track presenting a series of challenges, in the name of speed, action, technological innovation and sustainable mobility.
Slow and fast curves, ups and downs and straights, to overtake in a great technical challenge to conquer the victory!
The spectacular and fully electric Gen2, the second generation of Formula E vehicles represent a favourable point against the environmental crisis due to air pollution.
The Batmobile-esque car has double the energy storage capacity of the Gen1 car, meaning it can complete a whole race, so no more mid-race car swaps.
With 250kW of power, the cars accelerate from 0-100km/h in 2.8-seconds and go on to a top speed of 280km/h. Greater speeds, more action on the track and with just one car per driver the spectacular side is guaranteed!
Afterwards, the unmissable world's first all-electric production-based international race series, the Jaguar I-Pace eTrophy , in which 20 drivers, with 20 identical cars based off a production Jaguar I-Pace, go head-to-head to prove their race craft and team tactics across 10 races.
You can experience the event at 360 degrees with the engaging Allianz E-Village, the immersive area dedicated to innovation, exploration and entertainment, in which you get closer to the action and learn more about the world of the ABB FIA Formula E Championship.
So, save the date: adrenaline, passion, technique and tomorrow's cars!
Cover photo: ABB FIA Formula E Official Website
Informations
Contacts
Facebook:
www.facebook.com/events/386068642269077/
Instagram:
www.instagram.com/fiaformulae
Online purchase:
www.ticketone.it/rome-e-prix-2020-roma-biglietti.html?affiliate=ITT&doc=artistPages%2Ftickets&fun=artist&action=tickets&key=2622250%2412471182#eventInfo
Telephone:
+39 06 94804895
Twitter:
http://twitter.com/FIAformulaE
Web site:
www.fiaformulae.com/it/championship/19-20-race-calendar/2019-2020/rome
Timetables
Sabato 4 aprile 2020

Programmaore 07.00 Apertura Allianz E-Village
ore 08.00 - 08.30 Prove Libere Formula E
ore 08.45 - 09.15 Qualifiche Jaguar I-PACE eTrophy
ore 09.45 - 10.50 Qualifiche Formula E
ore 14.00 Rome E-Prix 2020 (45 min + 1 giro)
ore 15.00 Cerimonia del Podio Formula E
ore 16.20 Gara Jaguar I-PACE eTROPHY
Condividi