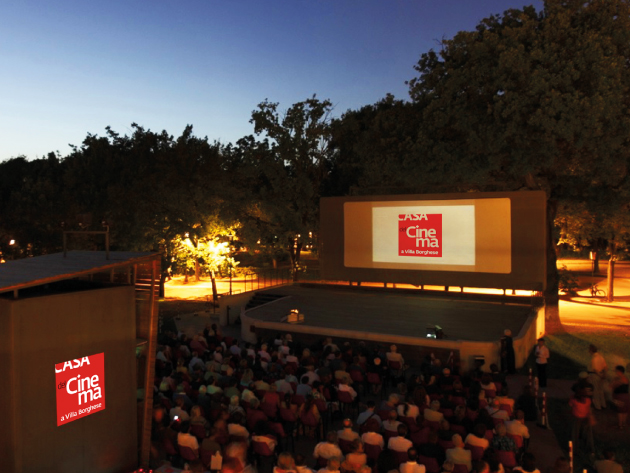 In the historical park of Villa Borghese, Casa del Cinema hosts 86 nights "under the stars" to celebrate the anniversary of the first landing on the moon. "CALEIDOSCOPIO. A Villa Borghese il cinema non va in vacanza"  (At Villa Borghese, Cinema does not go on vacation) is dedicated to the Italian and international movie "stars".
A different program every night in the Ettore Scola outdoor theater. 300 spectators will be able to attend the projections dedicated to Age and Scarpelli, two milestones of the Italian screenwriting, the retrospective dedicated to the late Italian author and director Carlo Mazzacurati, the exhibition dedicated to Bim, the distribution company defined as the home of the authors, as well as the various "Film Festivals" scheduled, such as the Georgian, Azerbaijan, Bulgarian and  the Brazilian.
A series of interesting special events are planned, including a tribute to the director Cesare Zavattini, 30 years after his death, with the projection of a real "gem " the first two episodes of the space comic book by the father of neorealism: "Saturno contro la terra" (Saturn against the earth) today made film thanks to a sophisticated work of shooting and editing of the original tables.
The program also includes real musical and singing stars: an exceptional series of Film Opera, produced together with Rai Teche, Classica HD and Teatro dell'Opera di Roma, directed by important movie authors such as "Boheme" directed by Scola, "Falstaff" by Martone, "Aida" by Bolognini and others.
In case of rain, the projections will be held in the Deluxe Cinema Hall.
Free admission according to seating availability.
Informazioni
Quando
from 16 June 2019
to 9 September 2019
Contatti
Facebook:
https://www.facebook.com/CasaDelCinema/
Instagram:
https://www.instagram.com/casadelcinema/
Twitter:
https://twitter.com/CasadelCinema
Web site:
http://www.casadelcinema.it/?p=48954
Orari
dal 16 giugno al 9 settembre 2019
vari orari
Condividi