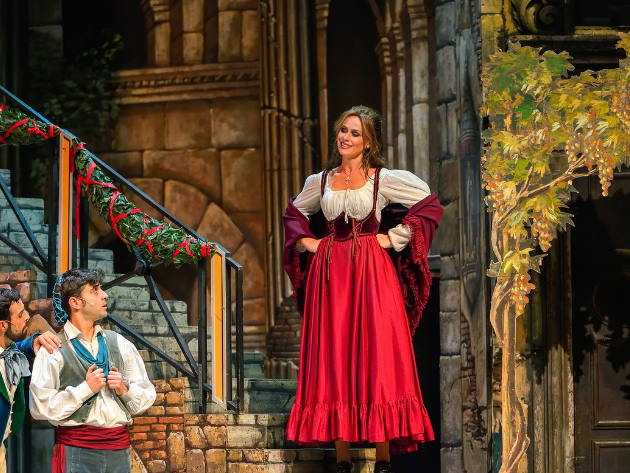 Roma nun fa' la stupida stasera
Damme na mano a faje dì de si
Scegli tutte le stelle
Più brillarelle che poi
E 'n friccico de luna tutta pe noi…
(Rugantino, Roma nun fa' la stupida stasera)
Taverns, palaces, churches, alleys, squares of the papal Rome of the 19th century relive on the stage of the Teatro Sistina with the most beloved musical comedy of the Italian tradition, which returns in its original historical setting directed by Pietro Garinei with the splendid music by Maestro Armando Trovajoli.
The history of the famous Roman character, written by Garinei and Giovannini with Pasquale Festa Campanile and Massimo Franciosa, presents a fascinating portrait of the Rome of the Pope King, a little light-hearted, a little cowardly and a little bold, between love, jealousy, chatter and knives, revolutionaries to the guillotine, nobles and commoners.
The young and braggart Rugantino bets with friends that he will be able to conquer the beautiful Rosetta, wife of the very jealous Gnecco Er Matriciano. After various vicissitudes, he achieves his goal but falls in love with the woman. Then, Gnecco is murdered by a criminal. Rugantino accuses himself because he doesn't want to lose Rosetta, who discovered the history of the bet. Going up to the gallows to be beheaded by Mastro Titta, Rugantino faces death, strong thanks to Rosetta's love, and finally proves to be a real man. 
The show, under the supervision of Massimo Romeo Piparo, sees the return of Serena Autieri and Michele La Ginestra in the roles of Rosetta and Rugantino, Massimo Wertmuller as Mastro Titta and Edy Angelillo as Eusebia, with the original sets and costumes by Giulio Coltellacci, accompanied by unforgettable songs like Roma nun fa la stupida stasera, Ciummachella and Tirollallero.
Photo: Teatro Sistina Official Website
Informations
When
from 13 May 2022
to 22 May 2022
POINT (12.4871174 41.9043864)
Contacts
Facebook:
www.facebook.com/TeatroSistinaRoma
Online purchase:
www.ilsistina.it/rugantino-2022
Web site:
www.ilsistina.it/rugantino-2022
Timetables
Dal 13 al 22 maggio 2022
Dal venerdì al sabato ore 20.30
Domenica ore 16.00
Giorni di chiusura
Monday, Tuesday, Wednesday
Condividi
Location
Rugantino, Via Sistina, 129
41° 54' 15.7896" N, 12° 29' 13.6212" E