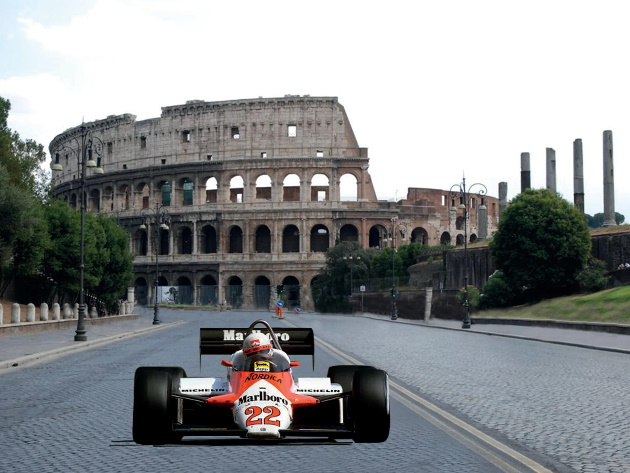 Rome starts the engines with its First Historic Grand Prix, a little more than a month after the E-Prix, the famous international motorsport event populating the streets of the EUR district every year. A parade of prestigious vintage cars that represent the best in the motoring history is ready to invade the streets with a non-competitive road tour between Via dei Fori Imperiali and EUR, now accredited as the racing district of Rome.
The event sees the participation of classic cars of Formula 1, Sports Prototype, Gran Turismo, and Rally.
The First Historic Grand Prix of Rome is the unmissable opportunity to admire up close, with engines running and moving, the cars that have raced in different eras, as at the time of the Grand Prix held in the Capital. But also to remember great Roman protagonists, like Piero Taruffi, Luigi Musso, Elio de Angelis, Andrea de Cesaris, and Giancarlo Fisichella.
Rome, a popular tourist destination for millions of tourists that every year fascinates with its thousand-year history and unique monuments, is also the city of big entertainment events, cinema, and sports, such as the automotive one. Since its inception, motorsport has been a fundamental factor in Rome's growth and expansion, thanks to its unforgettable interpreters, drivers, champions, skilled manufacturers, technicians, preparers, and artisans.
Ph. First Historic Grand Prix of Rome official website
Informations
When
from 11 June 2022
to 12 June 2022
Contacts
Email:
info@grandprixstoricoroma.it
Facebook:
www.facebook.com/Orgoglio-Motoristico-Romano-102804802427050
Instagram:
www.instagram.com/p/Cdcq6FWMgTD
Web site:
https://grandprixstoricoroma.it
Timetables
Sabato 11 e domenica 12 giugno 2022
dalle ore 11.00
Quartiere Eur e Via dei Fori Imperiali
Condividi