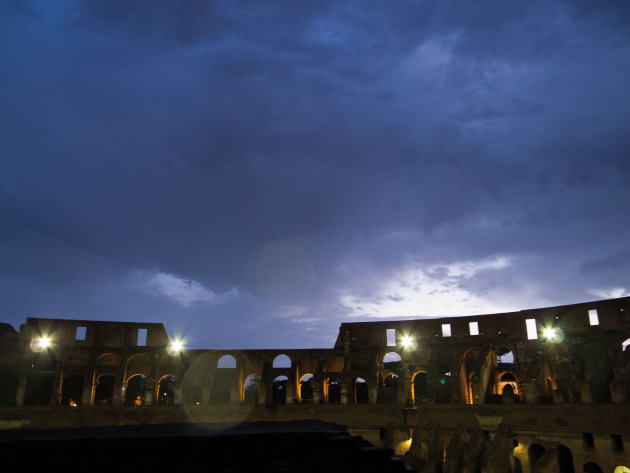 The Colosseum archeological park kicks off the 2020 edition of The Moon over the Colosseum with a new evening itinerary. In keeping with social distancing requirements and gathering limits, groups of up to 20 people will be accompanied by an operator.
"Of wizards, necromancers, shepherds and other crafts" is the name of the new itinerary that starts from the recent rediscovery of some graffiti engraved in the travertine of the first order corridors and belonging to the period between Late Middle Ages and 17th century: names, dates, sacred and profane symbols illustrating fragments of stories about common people who lived, worked and hung out at Colosseum, when the monument was almost isolated from the rest of the city and partly buried. 
On the arena floor, what remains of the underground tunnels where gladiators and animals waited to perform will help visitors relive the fascinating stories that made the Colosseum so famous all over the world. Going up to the second order, the museum space "Il Colosseo si racconta" is a testament of the life and charm of a monument that has become an icon of modern Rome, also by recalling the ceremony of the via crucis that originally took place along the perimeter of the arena.
The quiet magic of the monument in the evening, between subdued lights and the shadows of the arches, is completed with a view of the Colosseum square, between the Arch of Constantine and the solemn Temple of Venus and Rome.
 
Informations
When
from 25 July 2020
to 31 October 2020
POINT (12.492438 41.889373)
Contacts
Online purchase:
https://www.coopculture.it/ticket.cfm?office=La%20luna%20sul%20Colosseo%202020&id=0&evento=177
Web site:
www.coopculture.it/events.cfm?id=177
Timetables
fino al 31 ottobre 2020
ogni sabato dalle 20.00 - 23.55
ultimo ingresso alle ore 22.30
Condividi
Location
La Luna sul Colosseo 2020, Piazza del Colosseo
41° 53' 21.7428" N, 12° 29' 32.7768" E