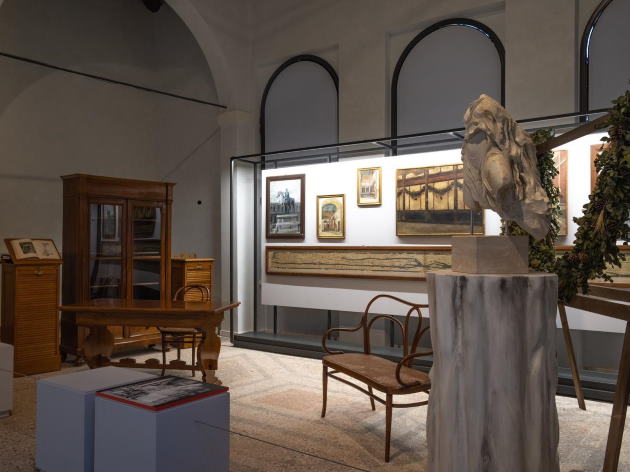 A self-taught man, trained as a drawer in Venetian construction sites, Giacomo Boni was one of the most important Italian archaeologists between the 19th and 20th centuries and developed innovative methods of excavation, restoration and valorization of the cultural heritage. The Archaeological Park of the Colosseum is dedicating a major exhibition to him in the places where the archaeologist mainly worked and whose physiognomy he defined: the Roman Forum, whose excavations he directed since 1898, and the Palatine Hill, where he was director of excavations from 1907. Among his discoveries, also realized thanks to the photos he took from a hot air balloon, there are the Temple of Vesta, the medieval church of Santa Maria Antiqua, the archaic burial ground of the Forum and the Lapis Niger, a place that ancient authors refer to the saga of Romulus.
The exhibition is divided into four sections. Boni's life, from his formative years to his arrival in Rome, is explained in the Temple of Romulus. In the center of the temple there is also the balloon used to take photographic views of the excavations from above. The section in the Complex of Santa Maria Nova is dedicated to the archaeological activity of Boni in the Roman Forum and in particular to the Museo Forense, which he inaugurated in 1908. In Santa Maria Antiqua and in the Domitian ramp we retrace the history of the discovery of the church and of the Byzantine pictorial cycle, after the demolition of the 17th-century church of Santa Maria Liberatrice. Finally, in the Farnese Aviaries, where Boni lived in the last years of his life and where friends such as D'Annunzio, Eleonora Duse, Sibilla Aleramo, Colette went to visit him, we visit the archaeologist's studio-apartment with a selection of original furnishings and items. Among the paintings on display, "Gli archeologi" by Giorgio de Chirico, 1927.
Moreover, totem poles are positioned in the Roman Forum in the places of his most significant discoveries and interventions, which have allowed a new understanding of the archaeological area and of the history of ancient Rome.
 
Informations
When
from 15 December 2021
to 3 July 2022
POINT (12.4900753 41.8875179)
POINT (12.486829110928 41.892710017367)
Contacts
Online purchase:
https://parcocolosseo.it/visita/orari-e-biglietti/24h-colosseo-foro-romano-palatino/
Web site:
https://parcocolosseo.it/evento/giacomo-boni-lalba-della-modernita-apre-il-15-dicembre-la-mostra-diffusa-tra-palatino-e-foro-romano/
Timetables
Dal 15 dicembre 2021 al 03 luglio 2022
9.00 – 16.30 dal 31 ottobre 2021 al 28 febbraio 2022
9.30 – 17.30 dal 1° al 26 marzo 2022
9.30 – 19.15 dal 27 marzo
Ultimo ingresso un'ora prima della chiusura
Condividi
Locations
Giacomo Boni. L'alba della modernità, Via di San Gregorio, 30
41° 53' 15.0648" N, 12° 29' 24.27" E
Giacomo Boni. L'alba della modernità, Via della Salara Vecchia, 5/6
Via della Salara Vecchia, 5/6
41° 53' 33.756" N, 12° 29' 12.5844" E