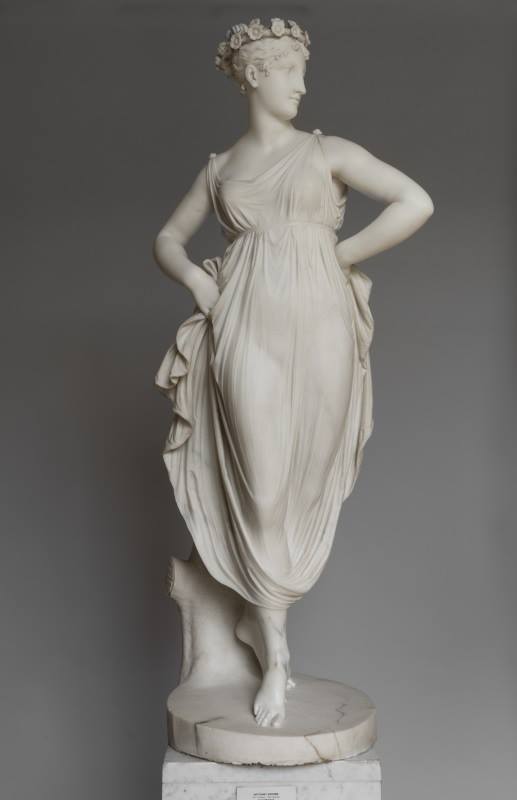 "Rome vient de perdre Canova, qui a inventé un nouveau genre de beau idéal, plus rapproché de nos mœurs que de celles des Grecs"
Stendhal, 1824
An exhibition-event at Museo di Roma Palazzo Braschi, to celebrate the link between Rome and Antonio Canova (Possagno, 1757), one of the main exponents of Neoclassicism who made sculpture, in competition with the ancients, the most representative art of his time.
Once in Rome Canova studies the ancients and gets in touch with artists and intellectuals searching for the sources of classical culture. In Rome he creates his most important works, an expression of a timeless beauty in which the universal message of antiquity merges with the modern sensibility. His Roman atelier, once full of Greek and Roman works, becomes a destination for pilgrims and a reference point for the artists of his time and is still today a place where to learn the basics of art from the ancient sculptures.
The relationship between the sculptor and the city, at the centre of his brilliant artistic career and an inexhaustible source of inspiration, emerges in a myriad of unique and unrepeatable aspects through the over 170 works and the prestigious loans from important museums and collections.
Framed within an installation and an exceptional scenographic effect, Canova's artworks animate the halls of the museum. In a spectacular light and dark play it is possible to experience the context that the sculptor found in Rome in 1779.
Divided into 13 sections, the Capitoline exhibition recalls, through sophisticated lighting solutions, the warm atmosphere of torchlight with which the artist, at the turn of the eighteenth and nineteenth centuries, welcomed his guests in the atelier of Via delle Colonnette.
Precious loans from important museums and collections define the plot of the story: the Hermitage of St. Petersburg, the Vatican and Musei Capitolini, the Gypsotheca and Antonio Canova Museum of Possagno, the Museo Civico of Bassano del Grappa, the Museo Correr of Venice, the Museo Archeologico Nazionale of Naples, the Accademie di Belle Arti of Bologna and Ravenna, the l'Accademia Nazionale di San Luca, the Musée des Augustins of Toulouse, the Musei di Strada Nuova-Palazzo Tursi di Genova, up to the Museo Civico di Asolo, just to name a few.
The exhibition, promoted and produced by Roma Capitale, Assessorato alla Crescita culturale - Sovrintendenza Capitolina ai Beni Culturali and Arthemisia, organized with Zètema Progetto Cultura and curated by Giuseppe Pavanello, is realized in collaboration with the l'Accademia Nazionale di San Luca and with Gypsotheca and Museo Antonio Canova of Possagno.
Informations
When
from 9 October 2019
to 21 June 2020
POINT (12.472846 41.897028)
POINT (12.4730975 41.8977819)
Contacts
Online purchase:
https://museiincomuneroma.vivaticket.it/ita/event/biglietto-open-canova-eterna-bellezza-il-biglietto-open-per-l-ingresso-alla-mostra-e-di-13-00-prevendita-1-00/140124?idt=2386
Web site:
www.museodiroma.it/mostra-evento/canova-eterna-bellezza
Timetables
From October 9, 2019 to March 15, 2020 and from May 19 to June 21 2020
Open daily, from 10.00 to 19.00 and Saturday and Sunday from 10.00 to 22.00
Contingent entry shifts by online purchasing or calling 060608.
MIC card owners and entitled to gratuity only by calling 060608
N.B. Before planning the visit, consult the notice for mandatory information to be followed for access.
See others important notices
 
Condividi
Locations
Canova. Eterna bellezza, Piazza di San Pantaleo, 10
Piazza di San Pantaleo, 10
41° 53' 49.3008" N, 12° 28' 22.2456" E
Canova. Eterna bellezza, Piazza Navona, 2
41° 53' 52.0152" N, 12° 28' 23.1528" E