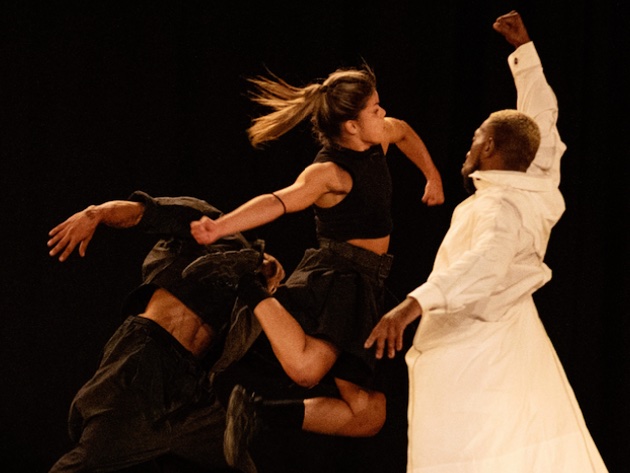 Bruno Beltrão, together with his company Grupo de Rua Niterói, is on the stage of the Auditorium Parco della Musica in this dance show that is part of the Romaeuropa Festival. The new performance marks the return of the Brazilian dancer to the prestigious Festival which has already seen him as a protagonist of the scene.
With his company he founded in Niterói, a suburb on the southeastern edge of Rio de Janeiro, Beltrão continues to think of dance as a form of protest and movement as a deliberately political act. All this clearly emerges from his latest production in which, through choreography, he focuses on the political reality of his country led by Bolsonaro's far right and its repressive practices, and then translates it into impulses of resistance and body energy that are released. from moving bodies.
Born in 1980 in Niterói, Bruno Beltrão uses urban dance styles in the context of conceptual contemporary dance by combining different influences, including Hip Hop, to compose abstract choreographies. In 1996 he founded his company Grupo de Rua with his friend Rodrigo Bernardi. In 2001 with From Popping to Pop, Beltrão's official debut on the contemporary dance scene, he brought Hip Hop and urban practices to the international scene. Beltrao later choreographed Too Legit to Quit (2002), Telesquat (2003), H2 (2005) and H3 (2008) and Inoah (2018), the show with which he first participated in the REf.
Photo credits: courtesy of the New Auditorium Parco della Musica official site
Informations
POINT (12.4751908 41.9291165)
Contacts
Email:
info@musicaperroma.it
Telephone:
0039 06 80241281
Web site:
http://www.auditorium.com/evento/bruno_beltrao_grupo_de_rua_niteroi-25906.html
Condividi
Location
BRUNO BELTRÃO/ GRUPO DE RUA NITERÓI, Viale Pietro De Coubertin, 30
Viale Pietro De Coubertin, 30
41° 55' 44.8212" N, 12° 28' 30.6876" E