The Torre della Moletta, also known as Turris in Capite Circi or Turris de Arco, is located within the archaeological complex of the Circus Maximus and is so called because it stood near a mill operated by the water of the Fosso di San Giovanni.
The tower, owned by the Frangipane family at least since 1145, has a square plan, built in tuff with limestone splinters, flint and irregular courses of bricks; it was surrounded by modest buildings and must have been part of a system of fortifications, demolished in 1943.
The Circus Maximus was built in the Murcia Valley and, under Julius Caesar, for the first time it was built in the form of a masonry structure; it measured 600 meters long and 140 meters wide.
It was the theater of competitions, together with the gladiator games, most loved in Rome and the protagonists, the aurighi of the chariots, the darlings of the people.
The circus was also used for events related to the political, social and religious life of the city, such as triumphs, processions and public executions.
Destroyed several times by fire, it was almost entirely rebuilt under the Emperor Trajan, in the second century AD, and most of the structures currently visible belong to this period. In 357 AD, Emperor Constant II had a gigantic obelisk erected here, now in the Lateran.
The Circus remained in business until the first half of the sixth century; later it was used as an agricultural area, and then became, starting from the 19th century, the seat of the Gazometro plants and warehouses, until the early 1900s, when work on the archaeological walk was started.
In the 1930s, excavations were carried out which brought to light a large part of the hemicycle and the remains of the Arch of Titus.
In the immediate postwar period, the area returned to green space, in which the ancient structures have been substantially abandoned.
The archaeological investigations and interventions of restoration, completed in 2016 and conducted by Roma Capitale, Capitoline Superintendence for Cultural Heritage with the technical contribution of Zetema Progetto Cultura, have created new visitor routes with relative lighting systems.
Photo: Courtesy of Sovrintendenza Archeologica
You may also be interested in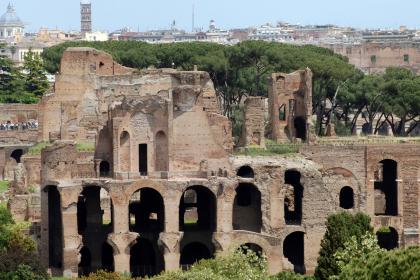 The Roman Forum and the Palatine

Condividi
The Flavian Amphitheatre (The Colosseum)

Condividi
Informations
Address
POINT (12.48852 41.884196)
Timetables
Temporarily closed
Online purchase of tickets or call center 060608 is required (every day 9.00 - 19.00)
Contingent entry shifts by online purchasing or calling 060608.
MIC card owners and entitled to gratuity only by calling 060608.
Before planning the visit, consult the NOTICES for mandatory information to be followed for access.
Use the Print @ Home to print the purchase receipt or ticket in digital mode to be presented to the access control, at the booked time, without going to the ticket office.
 
from Monday to Friday from 9.30 to 16.30 (last admission at 15.30 winter time)
24 and 31 December 9.30-14.00
from Monday to Friday from 9.30 to 19.00 (last admission at 18 summer time)
Closed on Saturday and Sunday, 25 December, 1 January, 1 May
Contacts
Online purchase:
https://museiincomuneroma.vivaticket.it/ita/tour/circo-massimo-area-archeologica/2473
Telephone:
060608 tutti i giorni ore 9.00-19.00
Web site:
www.sovraintendenzaroma.it/i_luoghi/roma_antica/monumenti/circo_massimo
Services
Parzialmente accessibile ai disabili

Condividi
Location
Torre della Moletta e area archeologica del Circo Massimo, Viale Aventino
41° 53' 3.1056" N, 12° 29' 18.672" E