The palace − designed by Camillo Pistrucci, in the sixteenth-century revival style − was constructed in 1883-1887 in an area once occupied by Villa Peretti. The State acquired the palace in 1981 and restored it for use as an exhibitions area. With Palazzo Altemps, Diocletian's Baths and the Crypta Balbi, this palace is now one of the seats of the Museo Nazionale Romano. The exhibits are displayed on the palace's four floors. In the basement vault constructed during the most recent work on the palace, we find the Sezione Numismatica with its rare exhibits (including many unique items). Among the key collections, we note the collection of the former Museo Kircheriano, the Gnecchi collection and the Medieval and Modern collection of Victor Emmanuel III of Savoy. Also in this section are the Savoy collection and the "Sezione di Oreficeria" (section of jewellery and gems, nearly all funerary objects). The other three floors host masterpieces of classical sculpture, mainly dating back to the late Republican and early Imperial eras, reflecting the influence of Graeco-Hellenistic culture upon the artists of Rome. These works include Augustus as pontifex, Roman copies of Greek works, such as the famous Lancellotti Discobolus, the sleeping Hermaphrodite, the Venus about to bathe, by Doidalsas, and the Apollo of the Tiber (a copy of an original work of the fifth-century BC, probably by Phidias's workshop). The section dedicated to works in bronze includes works from the Nemi ships and the Dionysius of the Tiber. On the top floor are frescoes and mosaics, including the frescoes of the triclinium of the Villa of Livia and of the villa known as the Villa della Farnesina. The mosaics on display reflect themes and styles over a period stretching from the first century BC to the fourth century AD. The works are from various areas of the city. A notable inlay work of the fourth century AD represents the head of the Sun God in cipollino marble. Also noteworthy are the inlay works of the Basilica of Junius Bassus.
You may also be interested in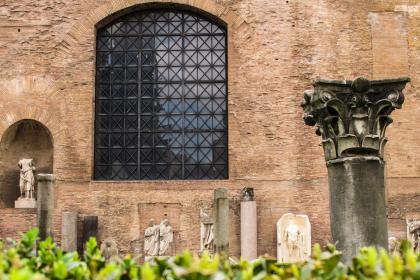 Condividi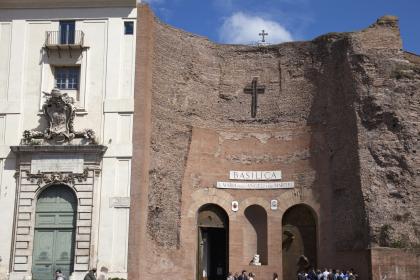 The Basilica of Santa Maria degli Angeli e dei Martiri

Condividi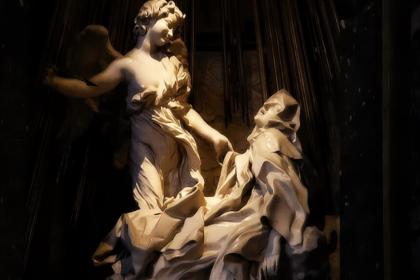 The Church of Santa Maria della Vittoria

Condividi
Information
Address
POINT (12.498281 41.901818)
Timetables
From Tuesday to Friday from 14.00 to 19.45
Saturday and Sunday from 10.30 to 19.45
Last admission at 19.00
Closed on Monday, 1 January, 25 December
Museums and cultural sites are subject at the COVID containment measures.
For updates and guidelines please check the official website
Contacts
Facebook:
www.facebook.com/MNRomano/
Instagram:
www.instagram.com/museonazionaleromano/
Twitter:
www.twitter.com/PalMassimoTerme
Web site:
www.coopculture.it/it/poi/palazzo-massimo - www.museonazionaleromano.beniculturali.it/it/170/palazzo-massimo

Condividi
Location
Museo Nazionale Romano - Palazzo Massimo alle Terme, Largo di Villa Peretti, 1
Largo di Villa Peretti, 1
41° 54' 6.5448" N, 12° 29' 53.8116" E
To find out about all accessibility services, visit the Rome accessible section.