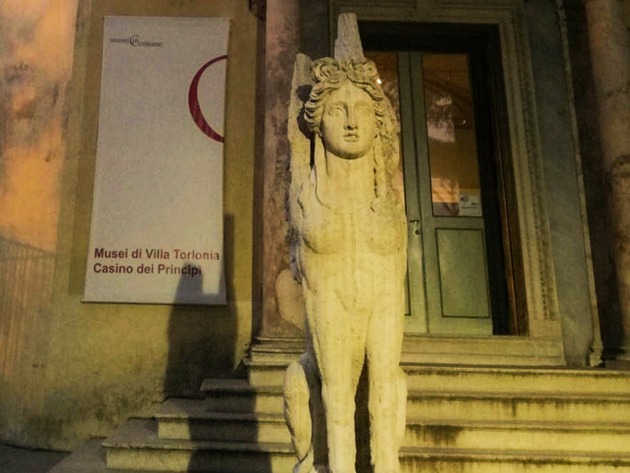 The Museum of the Park – Casino of the Princes is situated within Villa Torlonia. It exhibits and keeps the statues and the works found within the Villa itself. Fifty statues that can be dated back from the ancient times to Art Nouveau are exhibited in the rooms of the three floors of the Casino, a pink-colored building in neo-classic style. Magnificent frescoes and reliefs, some of which are by Canova, decorate all the halls. Of particular interest is the room with The Four Seasons by Cavaceppi and the dining room with the walls entirely decorated by G.B. Caretti with views of the Gulf of Naples. Giovanni Torlonia's bedroom, that was occupied by Mussolini from 1923 to 1943, inlaid in baroque style and furnished with bed, bedside tables, dressing tables, and small armchairs,  was also kept intact. A small gallery of Roman statues is also exhibited on the ground floor.
Informazioni
Indirizzo
POINT (12.511451 41.916074)
Contatti
Email:
info@museivillatorlonia.it
Email:
eventi.aziendali@zetema.it per eventi aziendali privati
Facebook:
www.facebook.com/pages/Musei-di-Villa-Torlonia/89222001577
Telephone:
060608 dalle 9.00 alle 19.00
Telephone booking:
Per gruppi e scuole 060608 tutti i giorni 9.00-19.00. Con la prenotazione è possibile evitare la fila presentandosi direttamente alla cassa.
Twitter:
http://twitter.com/museiincomune
Web site:
www.museivillatorlonia.it
Servizi
Accessibile ai disabili
Laboratori didattici
Visite didattiche
Visite didattiche per le scuole

Condividi
Location
Musei di Villa Torlonia - Casino dei Principi, Via Nomentana, 70
41° 54' 57.8664" N, 12° 30' 41.2236" E