Discovered by accident in 1936, the Mitreo di Palazzo Barberini (a site dedicated to the Persian God Mithras) this, together with a similar example at S. Prisca, is a rare example of Roman depictions of the God Mithras. It is typical of the cult, having a rectangular room with a barrel shaped vault and lateral balconies in which a communal meal was shared. The room was made inside a building which dates back to the second century AD although the room itself was used in the third century. Of great interest in this particular case, however, are the representations of the God slaying a bull, the various astrological symbolism and ten small paintings, telling the story, almost in cartoon fashion, of Mithras himself.
You may also be interested in
The Church of San Carlo alle Quattro Fontane

Condividi

Condividi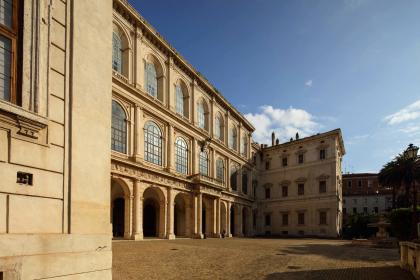 The Galleria Nazionale di Arte Antica - Palazzo Barberini

Condividi
Information
Address
POINT (12.4894979 41.9026431)
Contacts
Web site:
www.coopculture.it/it/poi/mitreo-di-palazzo-barberini/#
Web site:
www.soprintendenzaspecialeroma.it/schede/mitreo-barberini_2980

Condividi
Location
Mitreo di Palazzo Barberini, Via delle Quattro Fontane, 13
Via delle Quattro Fontane, 13
41° 54' 9.5148" N, 12° 29' 22.1928" E
To find out about all accessibility services, visit the Rome accessible section.