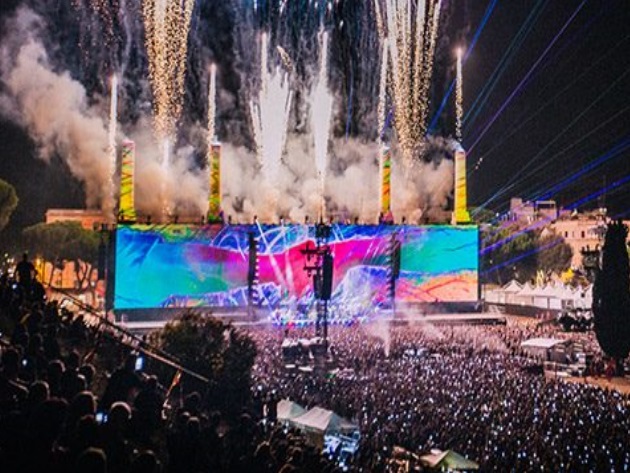 The Roma Summer Fest, is the summer music festival that, in the extraordinary venue of the Cavea of the Auditorium Parco della Musica designed by Renzo Piano, has hosted international music stars such as Elton John, Sting, Bjork, Leonard Cohen, Bob Dylan, The National, Paolo Conte, José Carreras, Patti Smith, Arctic Monkeys, Simple Minds and Ringo Starr. Over time it has become a reference point for the quantity and quality of the proposals, and one of the most important festivals in the world that has counted, over the course of 10 years, almost one million spectators.
Rock in Roma, on the other hand, has entertained, in its 10 editions, about 1,630,000 rock enthusiasts, with concerts by legendary artists such as Roger Waters, The Rolling Stones, Bruce Springsteen, Metallica, Muse, David Gilmour, Radiohead, Iron Maiden, Neil Young, The Cure, Lenny Kravitz, Red Hot Chili Peppers, Green Day, Linkin Park around, in the historic locations of Capannelle, Circo Massimo and the Teatro Romano di Ostia Antica.
This year, from June 23 to August 1, the two festivals join forces to create an unforgettable show, the Rock in Roma Summer Fest 2019, lasting over two months and 100 concerts, with the goal to make Rome a great city of music in which five unique locations will be the backdrop for the concerts of the great Italian and international big names: Cavea of the Auditorium Parco della Musica, Ippodromo di Capannelle, Casa del Jazz, Roman Theater of Ostia Antica and the Circus Maximus.
Artists such as Kraftwerk (27 and 28/06), the German electronic music band, and the eclectic British singer and producer James Blake (2/07) will perform in the evocative setting of the Roman Theater of Ostia Antica.
The Auditorium Parco della Musica will host international stars like Il Volo (26/06); Take That (29/6); the timeless Toto (4/7); Skunk Anansie (8/7); Tears for Fears (9/7); Ben Harper (13/7); the iconic jazz-pop voice Diana Krall (14/7); the sensitive Italian interpreter Fiorella Mannoia (29/7).
On September 1, at Circo Massimo, will perform TheGiornalisti, the first Italian group the stage of the ancient Roman stadium.
More info on www.rockinroma.com and on www.auditorium.com
Informazioni
Quando
from 23 June 2019
to 1 August 2019
Contatti
Email:
info@rockinroma.com
Facebook:
https://www.facebook.com/rockinroma/
Telephone:
Call Center TicketOne 892.101 (LU-VE: 8-21, SA: 9-17,30, DO: chiuso)
Web site:
https://www.rockinroma.com
Orari
dal 23 giugno 2019
Calendario in aggiornamento

Condividi