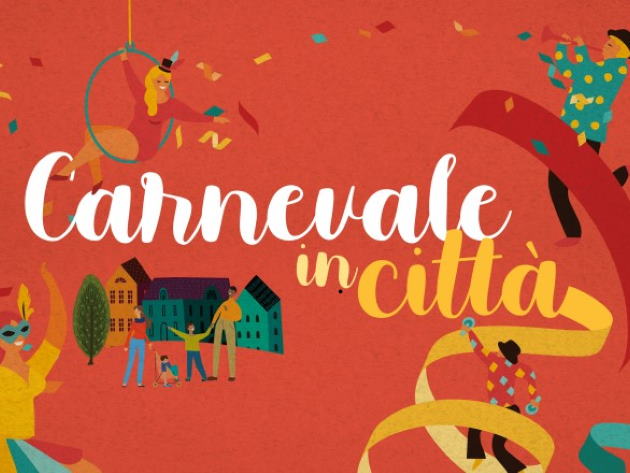 from 20 February 2020
to 25 February 2020
Masks, confetti, streamers, and a touch of cheerful madness: the carnival is coming to town with six days of events for adults and children from 20 to 25 February. Roma Capitale, with the support of Zètema Progetto Cultura, is organizing about one hundred events to involve the whole city in a large, colorful and widespread party, including parades, theater,and music shows, films, guided tours, and workshops.
One of the main events of the "Carnevale in città" kermesse is the double appointment with the overwhelming rhythm of Ambrogio Sparagna's tarantella: on Saturday 22 February the musicians and dancers of the Orchestra Popolare Italiana will cross the Foro Italico, anticipating the great masked musical parade open to all in the outdoor spaces of the Auditorium on Sunday 23 February.
The original spirit of the Carnival, turning the world upside down for at least a few hours, is at the center of the "Mutanti" event at the Teatro India. With a mask, we can get out of ourselves and become someone else: we can realize our carnival dress with a staff of theater costume designers on Saturday morning, and then dance and be what we want to be with the DJ and VJ set "Mutati si balla".
Children will be the main protagonists of the Carnival, with 32 appointments in libraries to rediscover the pleasure of reading, free workshops in museums to create papier-mâché masks or armor, and animated readings to discover the fantastic world of gods and heroes or traditional stories about cats. All children in masks participating in the guided tours of the Opera House will also receive a small gift.
On 25 February (Shrove Tuesday), municipal museums and temporary exhibitions in progress (except for "Canova. Eterna Bellezza" at the Museo di Roma - Palazzo Braschi and "C'era una volta Sergio Leone" at the Ara Pacis Museum) we'll be free of charge, while at the Palazzo delle Esposizioni from 20 to 25 February it will be possible to visit the exhibitions "Gabriele Basilico | Metropoli" and "Jim Dine" at a reduced price.
And that's not all. To find out all the other appointments, have a look at the detailed program!

Condividi