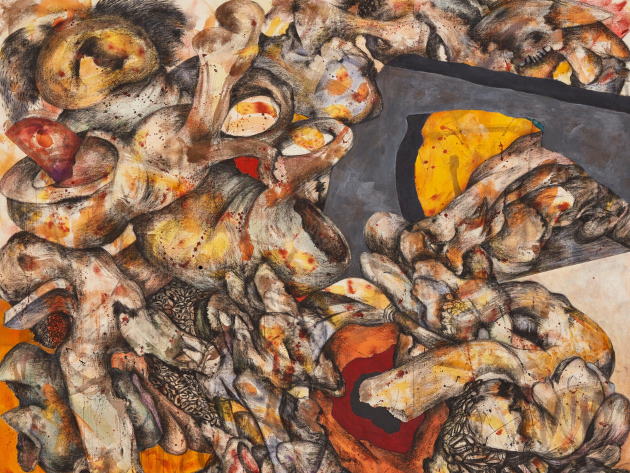 One of the five artists representing Iraq at the 54th Venice Biennale in 2011, Ahmed Alsoudani debuts in Rome with a major retrospective exhibition tracing his career through about forty works, made from 2004 to the present.
Hosted by Palazzo Cipolla and conceived together with Marlborough Gallery, the exhibition presents new and unpublished paintings from the artist's studio, as well as a selection of works on paper and a painted bronze sculpture. Born in Baghdad, Alsoudani fled to Syria before seeking asylum in the United States in 1999, and he currently lives and works in New York. His war-torn childhood in Iraq provided much of the inspiration for his early works, translating over time into a more general yet still tormented reflection on suffering, pain and violence in contemporary societies, both psychological and physical.
His surreal, vividly-colored, grotesque and sometimes disturbing canvases are reminiscent of artists such as Francisco Goya, Pablo Picasso, Francis Bacon, and stylistically Willem de Kooning:  emotionally compelling and overwhelming, his art uses a universal language and makes people reflect on the human condition, on those moments "In Between", on that line between life and death.
Photo Marlborough Gallery
Informazioni
Quando
from 26 March 2020
to 20 September 2020
POINT (12.4809094 41.8995134)
POINT (12.4809094 41.8995134)
Contatti
Web site:
www.fondazioneterzopilastrointernazionale.it/?s=Ahmed+Alsoudani.+In+Between
Orari
Dal 26 marzo al 20 settembre 2020

Condividi
Locations
Ahmed Alsoudani. In Between, Via del Corso, 320
41° 53' 58.2468" N, 12° 28' 51.2724" E
Ahmed Alsoudani. In Between, Via del Corso, 320
41° 53' 58.2468" N, 12° 28' 51.2724" E