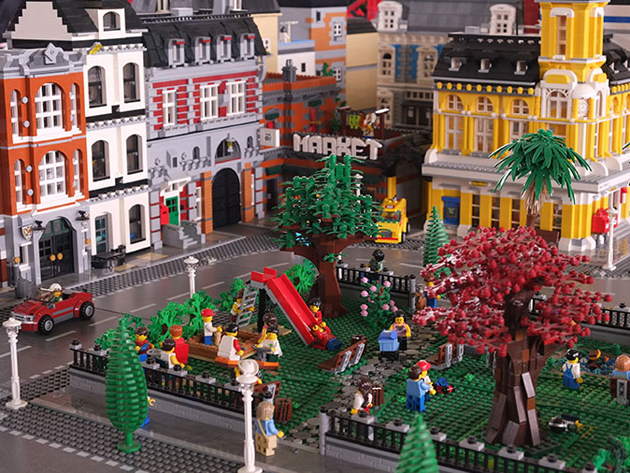 A feast for the eyes that gives vent to the imagination of adults and children, is this exhibition, which begins at Palazzo Bonaparte on Christmas Eve.
More than ever, the brightly colored and popular bricks come back, making millions of people play every year, allowing visitors to spend a funny and unique day.
The exhibition presents the most varied reproductions of fantasy made with the famous bricks: from the faithful reconstruction of the Forum of Augustus and other monuments of ancient Rome, to medieval constructions; from pirate ships, to the futuristic structures of contemporary cities; from the rockets to conquer space, up to the representation of an arctic landscape, just to name a few.
And then again fantastic dioramas, creative workshops open to everybody, 10 oil painted canvases inspired by Renaissance portraits made also using the Lego bricks, by the young Roman artist Stefano Bolcato.
Informazioni
Quando
from 24 December 2019
to 19 April 2020
Contatti
Email:
info@arthemisia.it
Facebook:
www.facebook.com/ArthemisiaArte/
Instagram:
www.instagram.com/arthemisiaarte/
Online purchase:
www.ticketone.it/biglietti.html?affiliate=ITT&doc=artistPages/tickets&fun=artist&action=tickets&erid=2653062&includeOnlybookable=false&x10=1&x11=lego%20roma
Online purchase:
www.ticket.it/legoroma
Telephone:
Info e prenotazioni 06 8715111
Twitter:
https://twitter.com/arthemisiaarte
Web site:
www.arthemisia.it/it/i-love-lego-roma/
Web site:
info@arthemisia.it
Orari
dal 24 dicembre 2019 al 19 aprile 2020
dal lunedì al venerdì  9.00 – 19.00
sabato e domenica  9.00 - 21.00
La biglietteria chiude un'ora prima
Prossime aperture straordinarie
Domenica 12 aprile 2020 9.00 – 21.00
Lunedì 13 aprile 2020 9.00 – 21.00

Condividi
Location
I love Lego, Piazza Venezia, 5