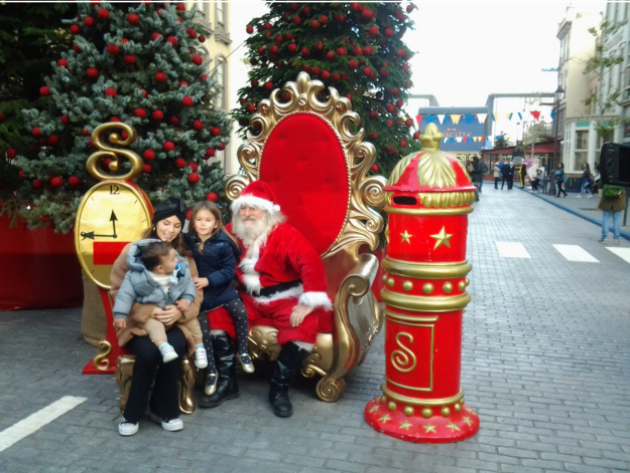 This year, Cinecittà World is dressed with the lights and colours of Christmas, making visitors live in the atmosphere of old New York, with street lamps and vintage cars.
Everything contributes to create the impression of having been placed in an almost magical dimension, where Santa Claus is sitting on his unfailing red armchair, the beautifully decorated tree, the Christmas letterbox, the elves, the garlands and the sleighs with the reindeer.
Not only children, but also the whole family is involved in fun with the attractions such as the Ice Kingdom, Italy's first indoor snow park, the I-Fly, which is Santa's virtual Russian mountain thanks to which, when the visors are worn, you can fly and deliver gifts all over the world and even in space.
Or with Gocce di Cinema, the most famous scenes of Christmas films projected on a giant screen in the Piazza del Parco; and then again a special welcome with a gospel choir, two musicals, shows and another incredible virtual journey on the Jurassic War dinosaur reserve, aboard a spectacular 4D simulator.
Photo: rendezvousweb.info
Informazioni
Quando
from 1 December 2019
to 6 January 2020
POINT (12.447778 41.711365)
Contatti
Facebook:
www.facebook.com/events/239504036930121/
Web site:
www.cinecittaworld.it/Info/Eventi/89/Natale-a-Cinecittà-World
Orari
Dall' 1 dicembre 2019 al 6 gennaio 2020
Per gli orari di apertura consultare la pagina www.cinecittaworld.it/Info/Orari
Sabato 7 dicembre l'inaugurazione della stagione
Alle ore 15.00 un benvenuto speciale con il coro Gospel della scuola di musica Cento per Cento Musica di Roma
Alle ore 16.00 sarà presentato al Teatro 1 lo spettacolo Viva l'Italia, durante il quale sarà consegnato l'assegno di beneficienza dei proventi raccolti durante l'evento interforze Viva l'Italia
Il Regno del Ghiaccio sarà ancora più addobbato per le feste, e ospiterà il brindisi con vip e testimonial
Alle ore 17.00 lo spettacolo Gocce di Cinema
Alle ore 17.30 Goodbye Show

Condividi
Location
Natale a Cinecittà World, Via di Castel Romano, 200
Via di Castel Romano, 200
41° 42' 40.914" N, 12° 26' 52.0008" E