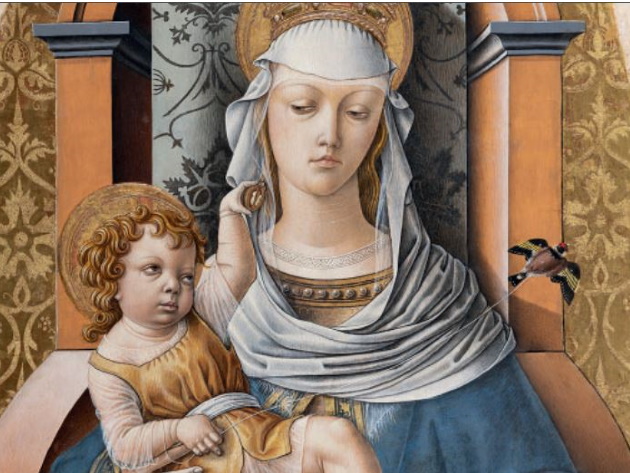 The turquoise blue, the soft shades of red, green and ocher, the splendor of gold: the last 2019 appointment with Museum at Work focuses on the fifteenth-century painter Carlo Crivelli. The cultural initiative aims to illustrate the research and restoration activities of the Vatican Workshops. The generous overseas contribution of the Patrons of the Arts in the Vatican Museums also provides an opportunity to celebrate the 35th anniversary of diplomatic relations between the Holy See and the United States of America.
The small but precious exhibition set up in the Pinacoteca of the Vatican Museums focuses on the significant collection of works, preserved by the Vatican Museums, by the great Venetian artist, active in the period from 1463 to 1494, and famous for the elegance of his stylistic and representational inventions, for the ability to merge Renaissance achievements in the study of figures with late Gothic taste and the use of gold.
In an unusually close comparison, the three recently restored masterpieces are therefore on display: the five-panel polyptych of the Madonna and Child with Saints (1481), the Madonna and Child (1482), and the splendid lunette of the Pietà (1488-1489). Thanks to a careful restoration, the works have regained their beauty and brilliant colors, revealing new and fascinating details, such as expression lines, the rendering of the hair and beard of Saint Jerome, or the tears on the faces of the figures in the Pietà.
Informazioni
Quando
from 14 November 2019
to 21 January 2020
POINT (12.453317 41.906949)
Contatti
Online purchase:
http://biglietteriamusei.vatican.va/musei/tickets/index.html
Web site:
http://www.museivaticani.va/content/museivaticani/it/eventi-e-novita/iniziative/Eventi/2019/museums-at-work-crivelli.html
Orari
Da giovedì 14 novembre 2019 a martedì 21 gennaio 2020
Segue l'orario dei Musei: ore 9.00 - 16.00 (chiusura alle ore 18.00)
Incluso nel biglietto d'ingresso ai Musei Vaticani
Ingresso gratuito ai Musei Vaticani e alla mostra ogni ultima domenica del mese dalle ore 9.00 alle 14.00 (ultimo ingresso alle ore 12.30
Sala XVII, Pinacoteca

Condividi
Location
L'oro di Crivelli, Viale Vaticano, 100
41° 54' 25.0164" N, 12° 27' 11.9412" E