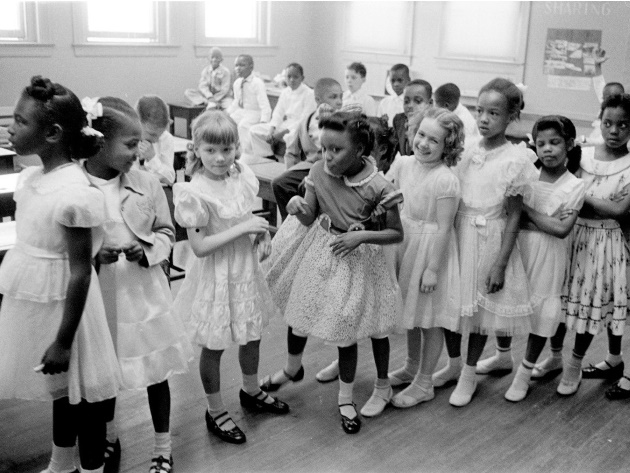 "I have a dream": on 28 August 28, 1963, these words by Martin Luther King, the black leader of the African American Civil Rights Movement, welcomed the 200,000 people gathered in the shadow of the Lincoln Memorial in Washington, DC, to demand equal justice for all citizens. The emotional strength and prophetic quality of this address have contributed to changing history, despite the debt of blood claimed.
Realized on the 50th anniversary of his murder and hosted by Spazio5, the exhibition "I have a dream. The struggle for civil and political rights of African Americans. From racial segregation to Martin Luther King " retraces, through black and white or color images, the long journey that led African Americans to see their rights recognized, thanks also to the support of progressives and trade unions, movie and music stars, and presidents John Fitzgerald Kennedy and Lyndon B. Johnson.
The 200 pictures on display, either printed or on monitors, come mainly from American state archives and were taken from the 1930s by some of the greatest US photojournalists, including Dorothea Lange, Lewis Hine, Gordon Park. An extraordinary visual journey that describes the condition of blacks in the countryside and cities of the United States between the end of the American Civil War and the 1960s, up to the Civil Rights Act in 1964, which put an end to all forms of discrimination based on race, skin color, religion, gender or origins, and the subsequent Voting Rights Act of 1965, which restored the right to vote to everyone.
Informazioni
Quando
from 9 November 2019
to 7 December 2019
POINT (12.4599608 41.9058678)
Contatti
Web site:
https://www.spazio5.com/agenda/164-mostra-fotografica-i-have-a-dream
Orari
Da venerdì 9 novembre a sabato 7 dicembre 2019
Tutti i giorni dalle ore 16.00 alle 20.00
Visite guidate: € 12,00 (su appuntamento per un minimo di 10 persone)

Condividi
Location
I have a dream, Via Crescenzio, 99/d
41° 54' 21.1248" N, 12° 27' 35.8596" E