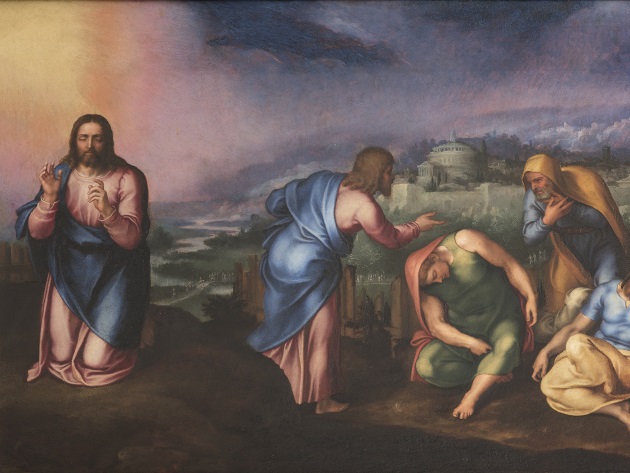 Thirty 17th century works never exhibited in Rome, snapshots of a distant everyday life, when the art of photography had not yet been imagined, are compared with some of Palazzo Corsini's paintings and with one from the National Museum in Warsaw.
Suggestive still lifes in the Roman Caravaggesque style, Emilian "Kitchens" and Lombard still lifes belonging to the collection of Geo Poletti (1926 - 2012), art historian, great connoisseur of Caravaggio and painter, explore collecting both as a practice and as a cultural category.
Two important still lifes depicting flower and fruit vases attributed by Geo Poletti to Caravaggio will be compared with a still life with tuberose preserved in Palazzo Barberini and usually not exposed to the public.
Three canvases depicting three different versions of a fishmonger eviscerating a monkfish, one from the Gallerie Nazionali, the second from the Poletti Collection and the third from the National Museum in Warsaw, are exceptionally gathered in the same place and are also an opportunity to explore the theme of Reality painting that compares them for the first time.
The exhibition also highlights the quality of Geo Poletti's collecting. His infallible eye and judgment, in addition to his long friendship with the critic Roberto Longhi, allowed him to deepen his knowledge of Caravaggio's art and of Italian and Spanish 16th century painting.
Informazioni
Quando
from 24 October 2019
to 2 February 2020
POINT (12.466906 41.893303)
Contatti
Web site:
www.barberinicorsini.org/evento/lenigma-del-reale-ritratti-e-nature-morte-dalla-collezione-poletti-e-dalle-gallerie-nazionali-barberini-corsini/
Orari
Dal 24 ottobre 2019 al 2 febbraio 2020
dal mercoledì alla domenica 8.30- 19.00
La biglietteria chiude alle 18.30
Chiuso martedì, 25 dicembre, 1° gennaio

Condividi
Location
L'enigma del reale. Ritratti e nature morte dalla Collezione Poletti e dalle Gallerie Nazionali Barberini Corsini, Via della Lungara, 10
41° 53' 35.8908" N, 12° 28' 0.8616" E