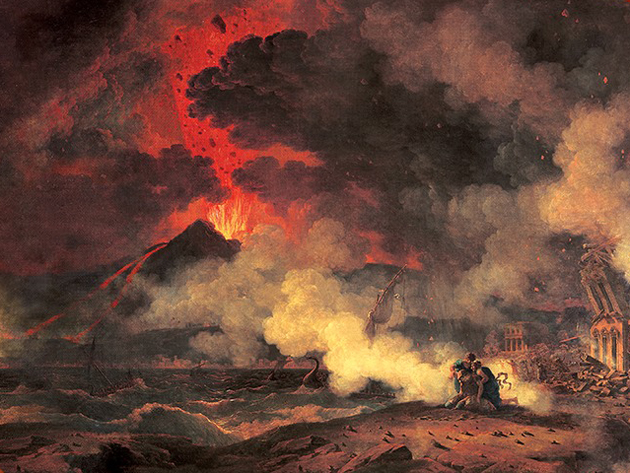 The Scuderie del Quirinale hosts an interesting exhibition in which the themes of the catastrophe and the subsequent rebirth accompany visitors in an unexpected journey back in time and history. Pompeii and Santorini, two extraordinary places united by an identical purpose live in a unique comparison through more than 300 objects, including statues, frescoes, vases, gems and paintings, along a time span from the Bronze Age to the present day.
The exhibits, coming from the excavations of Akrotiri, a thriving port city on the island of Santorini, overwhelmed by an eruption in 1628 BC they are put in parallel with some of the most representative testimonies of Pompeii, marked by an identical end in 79 AD, about 1700 years later.
The itinerary is enriched by works by modern and contemporary artists such as Joseph Turner, Renato Guttuso, Andy Warhol, Alberto Burri, Giuseppe Penone, James Graham and Damian Hirst, to underline how the rediscovery of buried cities influenced, centuries later, their art.
The exhibition, curated by Massimo Osanna and Demetrios Athanasoulis, with Luigi Gallo and Luana Toniolo, stems from an institutional collaboration between the Archaeological Park of Pompeii, the Ephoria of the Cyclades and the Scuderie del Quirinale.
Informazioni
Quando
from 11 October 2019
to 6 January 2020
POINT (12.4867468 41.8986567)
Contatti
Online purchase:
https://scuderiequirinale.vivaticket.it
Web site:
www.scuderiequirinale.it/mostra/pompei-e-santorini-leternita-in-un-giorno
Orari
Dall'11 ottobre al 6 gennaio 2019
da domenica a giovedì dalle 10.00 alle 20.00
venerdì e sabato dalle 10.00 alle 22.30
L'ingresso è consentito fino a un'ora prima dell'orario di chiusura

Condividi
Location
Pompei e Santorini: l'eternità in un giorno, Via 24 Maggio, 16
41° 53' 55.1652" N, 12° 29' 12.2892" E