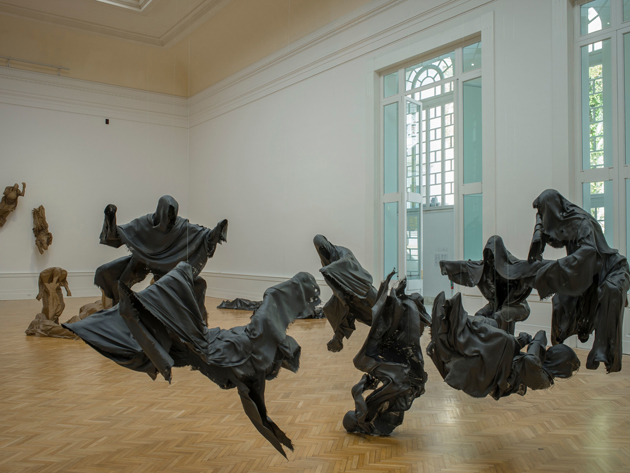 Known for his controversial and visionary works, during his long and prolific career Robert Morris has produced sculptures that startle, question, challenge and flout expectations, using a range of materials and ways of expression, and continuing restlessly to experiment.
Mo (nu) mentum. Robert Morris 2015-2018, the exhibition held at the Galleria Nazionale d'Arte Moderna e Contemporanea, celebrates its talent, fine-tuned intellect, and philosophical bent one year after the artist's death and 40 years after the first personal exhibition in Rome dedicated to minimalist sculpture. Minimalism, of which he was one of the founders, was however just one of many stops on his six-decade journey through the art world so that it would be almost impossible to limit his sculptures and installations to a single art movement.
The two series of works on display, produced by Morris in the final years of his life for the Castelli Gallery in New York, bear witness to the artist's definitive abandonment of abstract simplification and growing interest in the human figure, and in the work of the great sculptors of the past, from the Gothic to the Baroque, up to Rodin and Francisco Goya.
Petrified shrouds made of Belgian linen soaked in resin and placed over models to take on their form, the sculptural groups of MOLTINGSEXOSKELETONSSHROUDS dialogue with the unsettling black carbon fiber figures of Boustrophedons, interacting with each other and with the space they share in an unprecedented way according to a design agreed with Morris himself before his passing.
In their complex staging, the sculptures do not offer concrete reassurances about how one should engage with them and maintain, with their ghostly essences, their ambiguous quality, in the balance between immaterial lightness and earthly matter, new life and a mortal past.
Photo by Agcult
Informazioni
Quando
from 15 October 2019
to 1 March 2020
POINT (12.482291 41.916317)
POINT (12.4809488 41.9177367)
Contatti
Web site:
http://lagallerianazionale.com/mostra/monumentum-robert-morris-2015-2018/
Orari
Dal 15 ottobre 2019 al 1°marzo 2020
da martedì alla domenica dalle ore 8.30 alle ore 19.30
ultimo ingresso alle ore 18.45
chiuso il lunedì

Condividi
Locations
Mo(nu)mentum. Robert Morris 2015 – 2018, Viale delle Belle Arti, 131
Viale delle Belle Arti, 131
41° 54' 58.7412" N, 12° 28' 56.2476" E
Mo(nu)mentum. Robert Morris 2015 – 2018, Via Antonio Gramsci, 71
41° 55' 3.8532" N, 12° 28' 51.4164" E