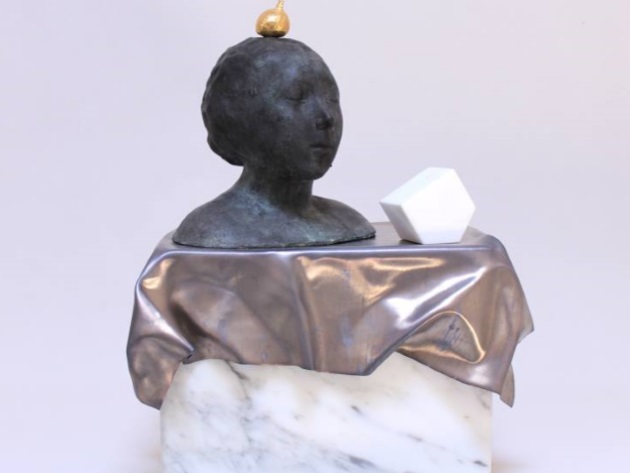 The neoclassical halls of the Casino Nobile dialogue with the narrative and mythological sculpture of Sergio Monari.
Eighteen sculptures, personally chosen by the artist, interact with the history, symbols and meanings that permeate this extraordinary palace.
The works, inspired by themes and characters from Greek-Roman mythology, are the protagonists of a suggestive comparison with those of the Torlonia collection, in a game of mutual enrichment and reinterpretation. The exhibition is set up in chapters modeled in the form of human appearances, impulses, aspirations, doubts and fears: poetry, love, war, destiny, time, death, in which physicality and conceptuality meet and compose a lively agora, a mirror of a complex and contradictory polis, far removed from that envisioned by Plato, in which greed devours the human being. The conceptual heart of the exhibition, Migrante preda, as a symbol of the courageous Medea who leaves her homeland with the will to bring together the wisdom of two distant worlds, metaphorically seals the meeting of Monari's sculpture with Villa Torlonia ancient statues collection, as well as that between his Colchide and the Corinto which can be admired in the permanent collection of the Museum.
BIOGRAPHICAL NOTES ON THE ARTIST
Sergio Monari (Bologna, 1950) started his artistic activity in the early 80s and soon received critical and public approval both in Italy and worldwide.
His first foreign exhibition dates back to 1986, in Ljubljana, and over the course of time Paris and New York have been added. In 1984 and 2011 he was invited to exhibit at the Venice Biennale, while in 2015 one of his works was chosen for the review "Tesori d'Italia", at the Milan Expo.
Important critics have dealt with his work, including Calvesi, Crispolti, Manzoni, Portoghesi and Tomassoni.
From 2006, Monari teaches Scenography, Sculpture and Materials Techniques for the Melodrama Scenography course at the Bologna Academy.
Informazioni
Quando
from 5 October 2019
to 7 January 2020
POINT (12.511451 41.916074)
Contatti
Telephone:
060608 tutti i giorni ore 9.00 - 19.00
Web site:
www.museivillatorlonia.it
Orari
Inaugurazione venerdì 4 ottobre 2019 ore 17.00, sono invitati tutti i possessori della MIC card
Dal 5 ottobre 2019 al 7 gennaio 2020
da martedì a domenica ore 9.00-19.00
24 e 31 dicembre ore 9.00-14.00
La biglietteria chiude 45 minuti prima
N.B. per eventuali aperture e/o chiusure straordinarie consultare la pagina dedicata agli Avvisi

Condividi
Location
Sergio Monari. Rifrazioni dell'Antico, Via Nomentana, 70
41° 54' 57.8664" N, 12° 30' 41.2236" E