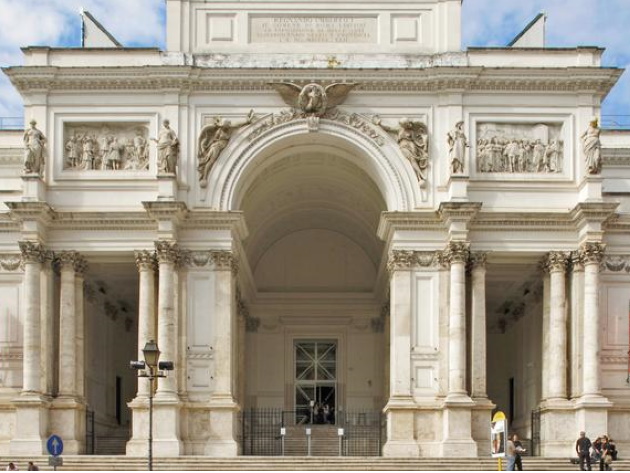 The opportunity of reading an exhibition through the eyes of those who organized it and are its most passionate connoisseurs: hosted by Palazzo delle Esposizioni, "Spot! 20 minuti un'opera" (Spot! 20 minutes a work of art) is a fascinating guided tour in a nutshell that turns on the spotlight on a work on display, explaining the reasons behind the curators' choice, and highlighting its context, contents and messages.
Two appointments are scheduled, at aperitif time, on the occasion of the exhibition "Tecniche di evasione", dedicated to the strategies put in place by avant-garde artists in post-revolutionary Hungary during the Sixties and Seventies to evade the regime and contrast the ideological homologation through the irreverent weapon of irony.
Between October and December, the Italian curators of the exhibition Giuseppe Garrera and Sebastiano Triulzi make us discover "I am a work of art", realized by Kele Judit in 1979, and "Lenin in Budapest" by Szombathy Bálint, a splendid and moving testimony of how it's possible to mock the Power under the eyes of the Power.
 
Informazioni
Quando
from 30 October 2019
to 19 December 2019
POINT (12.490471 41.898935)
POINT (12.489286 41.899826)
POINT (12.489504 41.8995108)
POINT (12.489504 41.8995108)
Contatti
Web site:
https://www.palazzoesposizioni.it/rassegna/spot-20-minuti-un-opera-la-meccanica-dei-mostri
Orari
30 ottobre 2019, ore 18.00 
19 dicembre 2019, ore 18.00 

Condividi
Locations
Spot! 20 minuti un'opera, Via Nazionale, 194
41° 53' 56.166" N, 12° 29' 25.6956" E
Spot! 20 minuti un'opera, Via Piacenza, snc
41° 53' 59.3736" N, 12° 29' 21.4296" E
Spot! 20 minuti un'opera, Via Milano, 13
41° 53' 58.2396" N, 12° 29' 22.2144" E
Spot! 20 minuti un'opera, Via Milano, 9A
41° 53' 58.2396" N, 12° 29' 22.2144" E