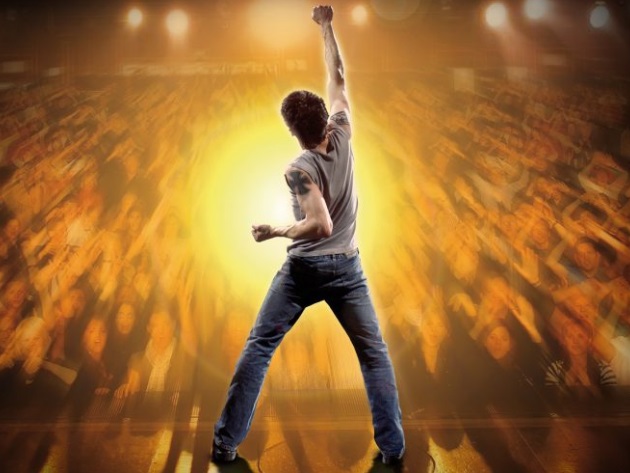 In 300 years, in an imaginary dystopian future, the Planet Mall (the Earth) is prey to the most unbridled globalization. Any attempt to get out of homologation and any desire for freedom are violently repressed. Musicians and lovers of rock and live music are persecuted by the multinational Global Soft, led by the ruthless Killer Queen.
The life of individuals is meticulously controlled and "guided" towards consumption and predetermined ideas.
But in the subsoil takes refuge a "resistance" of Bohemians who passes down, from generation to generation, the faded memories of the glorious time in which the rock reigned supreme on the Earth. The salvation of the Earth, as we knew it, is in the hands of the naive Galileo and the volitional Scaramouche. They are the chosen ones to find the key instrument for the final victory, a guitar, hidden by the ancient god of rock.
Thanks to the purity of their soul, the firmness of their intentions and the courage of their age, Galileo and Scaramouche manage to bring Love, Live Music and Beauty back to the centre of their lives, in this frightening futuristic society.
We Will Rock You, the sensational rock opera that stages 24 of Queen's biggest hits, has been one of the most performed shows in the world since 2002.
Over two and a half hours of entertainment to the overwhelming and engaging rhythm of rock music, performed strictly in the original language and live by the extraordinary cast.
While maintaining the history and the original characters, the innovative adaptation has provided a studied re-adaptation and a global updating of the text by inserting citations such as the social networks, (impossible in 2002) and has given greater emphasis to the specific role of the songs in the dramaturgy.
We Will Rock You is a show in which emotional tension never loosens, while reality and fantasy mix with jokes that inevitably snatch a laugh, even if sometimes bitter.
The characters, looking cruel and funny, creative and contemporary, are the kids of tomorrow struggling to save the (their) world chasing a dream, in this case the rebirth of rock music.
A great love story: for Music, for Freedom and for Life.
The original show was written and produced by Ben Elton, in collaboration with Roger Taylor and Brian May.
Informazioni
Quando
from 28 January 2020
to 2 February 2020
POINT (12.500957 41.893716)
Contatti
Online purchase:
www.ticketone.it/biglietti.html?affiliate=IGA&doc=artistPages%2Ftickets&fun=artist&action=tickets&erid=2487541&includeOnlybookable=false&xtmc=we_will_rock_you&xtnp=1&xtcr=1
Web site:
www.teatrobrancaccio.it/spettacoli/stagione-2019-2020/we-will-rock-you-2/
Orari
Dal 28 gennaio al 2 febbraio 2020
Orario spettacoli
martedì 28 gennaio ore 20.45
mercoledì 29 gennaio ore 20.45
giovedì 30 gennaio ore 20.45
venerdì 31 gennaio ore 20.45
sabato 1 febbraio ore 16.00 e ore 20.45
domenica 2 febbraio ore 16.00

Condividi
Location
We will rock you, Via Merulana, 244
41° 53' 37.3776" N, 12° 30' 3.4452" E