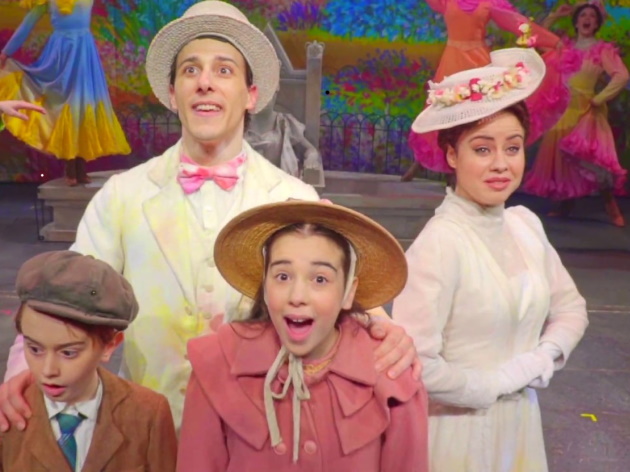 The world's most famous nanny flies across Rome rooftops with her bag and parrot-head umbrella and opens the new season of Teatro Sistina with "Mary Poppins the Musical", an amazing Broadway-style show.
Based on the wonderful novels by P.L. Travers adapted for the screen in 1964 with Oscar-winning film starring Julie Andrews, the musical is one of the most successful productions of the last theatrical seasons, born from the imagination of Cameron Mackintosh, known for shows like "Cats", "The Phantom of The Opera" and "Les Misérables", and of Julian Fellowes, the author of the famous Downtown Abbey TV series.
For the theatrical version, new songs and lyrics were added to the original soundtrack, made memorable by songs such as "Supercalifragilisticexpialidocious", "Chim chim cheree", "Jolly Holiday" and "Spoonful of sugar".
Cameron Mackintosh and Disney Theatrical Productions oversaw every aspect of the Italian version of the musical, which has already achieved great success. In Italy, the production has been curated by a creative team recognized and appreciated also in the West End, and makes use of extraordinary choreography, spectacular scene changes, sumptuous costumes and incredible special effects.
The cast consists of 32 actors and dancers selected with a national audition, accompanied by a large live orchestra of 13 elements directed by Andrea Calandrini.
Informazioni
Quando
from 24 October 2019
to 6 January 2020
POINT (12.4871174 41.9043864)
Contatti
Facebook:
www.facebook.com/marypoppinsilmusicaloff/
Online purchase:
https://www.ticketone.it/mary-poppins-il-musical-biglietti.html?doc=artistPages/tickets&fun=artist&action=tickets&kuid=540384
Web site:
www.ilsistina.it/spettacoli/mary-poppins/
Orari
ATTENZIONE ANNULLATE le seguenti date: 17, 18, 19, 20 ottobre 2019
Prima data: 24 ottobre 2019
dal giovedi al venerdì ore 20.30
sabato doppio spettacolo: ore 16.00 e ore 20.30
domenica ore 16.00
lunedì 6 gennaio 2020 - ore 16.00
Per il rimborso dei biglietti acquistati, si prega di contattare il punto vendita dove è stato effettuato l'acquisto entro e non oltre il 15 novembre 2019.
Per eventuali info scrivere a: info@marypoppinsilmusical.it

Condividi
Location
Mary Poppins Il Musical, Via Sistina, 129
41° 54' 15.7896" N, 12° 29' 13.6212" E