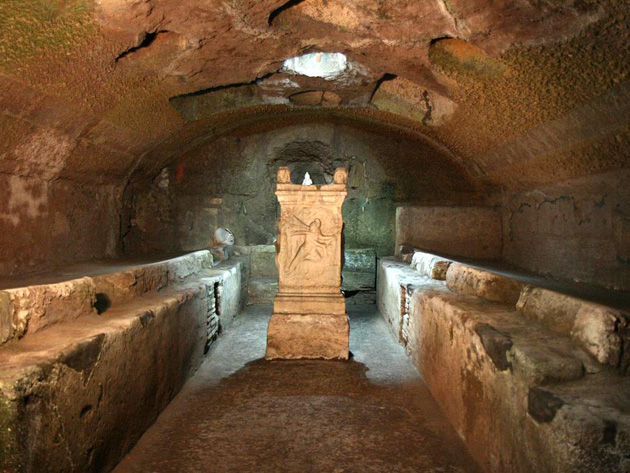 In ancient Rome, the Zoroastrian cult of Mithras, the god of light, had considerable diffusion in the imperial period. It even competed with Christianity, with which it shows some similarities. Mithras was born of a virgin, on December 25, in a cave; dies at 33; the followers, in his memory, celebrate a meal at the same table.
A Roman itinerary of the Mithraic places includes the Basilica of San Clemente, the Mitreo Barberini, the Mitreo of Santa Prisca, that of Ara Massima di Ercole, also called Mitreo of the Circo Massimo, and the 16 Mitrei of Ostia Antica, located in its archaeological area.
One of the rooms on the lower level of the Basilica of San Clemente was dedicated to the Mithraic cult. On the sides of the hall are the seats for the followers. At the center, is the altar with the representation of the Tauroctonia: the god Mitra sacrifices the cosmic bull to bring life and fruitfulness to the universe.
The Mitreo Barberini, behind the homonymous palace, is among the best preserved in the city. The most interesting part is the painting on the back wall. In addition to the usual sacrifice, the zodiac signs are represented, a lion-headed god wrapped in the coils of a snake represents the flowing of time, the sun and the moon. On the sides of the central scene, ten small paintings of various sizes depict the story of the god Mithras.
The access to the Mitreo of Santa Prisca is on the right side of the church. The decorated hall presents a particularly original datum: the nudity of the god Mithras and a lying Saturn modeled from amphora pieces covered with stucco. The frescoes on the walls depict on the right the seven degrees of initiation to worship and on the left the procession in honor of Mithras and the Sun.
The Mitreo of the Circo Massimo was discovered in 1931 during the works carried out to make a depot for scenes and costumes of the Opera House. It was located nearby the short side of the Circo Massimo, close to the starting cages for the chariots (carceres). The Mitreo of the Circo Massimo, dating back to the 3rd century AD, was composed of a series of communicating vaulted rooms. The first one, a sort of sacristy (apparitorium), gives access to a room whose side walls have two niches in which small statues were presumably placed. The third one presents the characteristic element of the Mithraeum, the masonry podium, where the participants at the sacred banquet took place. A second podium was found in the last room, preceded by a large arched opening. At the center of the floor is a large round alabaster, inserted in a very simple geometric pattern and made with polychrome marbles. To the right of the arch is a relief of Mithra Tauroctonous.