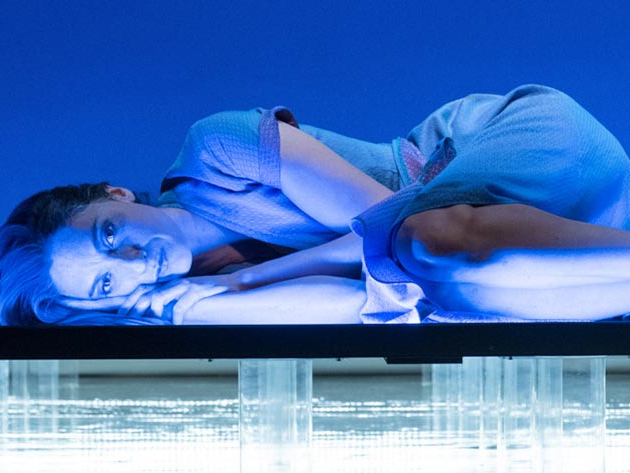 Two figures on the stage, in an essential space; a mother and a daughter, whose complex, painful bond, is made even more dramatic by monologues and close dialogues.
The mother is an Accabadora, a Sardinian word that has its roots in the verb acabar, which in Spanish means to end, to kill; this word indicates the job of Bonaria Urrai, stepmother of the little Maria: a seamstress who helps people to die.
The daughter Maria, once become adult, finds her mother, whom she has left on her deathbed, and has to face her past; therefore, in a reversal of roles, won by pity, the daughter painfully wears her mother's clothes, putting on her shawl and skirt and becoming Accabadora herself.
This is the plot of the theatrical piece taken from an acclaimed novel by Michela Murgia, (winner of the Campiello Award in 2010), which, thanks to the two excellent performers, and to an original use of Lorenzo Letizia's video projections, offers the public a dramatic work of art.
Informazioni
Quando
from 14 November 2019
to 24 November 2019
POINT (12.4886188 41.8978403)
Contatti
Facebook:
https://www.facebook.com/events/2519431254802817/?event_time_id=2519431288136147
Online purchase:
https://teatroeliseo.vivaticket.it/ita/event/accabadora/135445?fbclid=IwAR3NTDgDc44WoGvdDyecZ4IGsUft4p6hjOT6Ht8bjMPvW-NfNbvWsIRmwcc
Web site:
www.teatroeliseo.com/eventi/accabadora/
Orari
dal 14 al 24 novembre 2019
Prima 14 novembre 2019 - ore 20.00
da martedì a sabato - ore 20.00
domenica - ore 17.00
Durata 70 minuti (atto unico senza intervallo)

Condividi
Location
Accabadora, Via Nazionale, 183
41° 53' 52.224" N, 12° 29' 19.0284" E