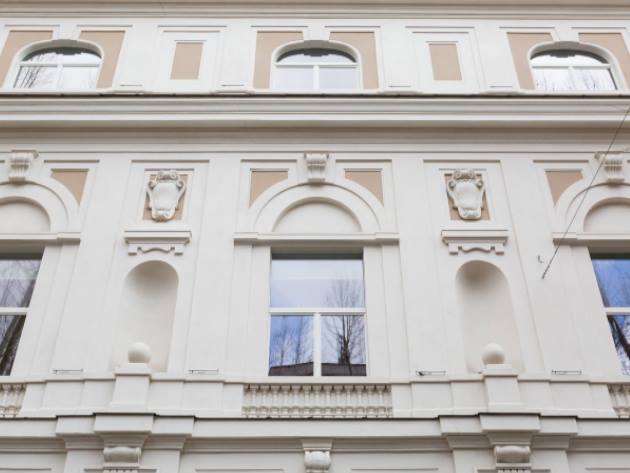 Palazzo Merulana, an umbertine jewel in the heart of the Esquiline district, hosts the second edition of "Cinema di Stelle", the event dedicated to the best of independent film scene. A valuable and unconventional Cinema with four different programs: Fuorinorma Extra / Program of experimental courts, the neo-experimental way of Italian production, the Nordic Film Fest, dedicated to Nordic countries, Cinema dell'Invisibile, movies and meetings with the authors, and eventually the Festival Balz, films in exile, a sophisticated selection of feature films.
The Nordic Film Fest, born with the intention of promoting cinematography and culture of the Nordic countries, presents a selection of the best films shown in the previous editions of the Festival. The titles on the bill, in o.v. with italian or english subtitles, include: "Becoming Astrid" (unga astrid - 2018), 7 nominations for the Guldbagge Awards, "Pathfinder" (Veiviseren - 1987), Oscar nomination for best foreign film in 1988, and "Blind" ( 2014), winner of 4 Amanda Awards, the Oscar of Norwegian cinema.
"Cinema dell'Invisibile", program currently to be defined, proposes projections and meetings with the authors. "Festival Balz", instead, aims to present to the general public a sophisticated selection of films that are rarely offered on big screen: early works of those who have become great directors such as Spielberg, Almodovar, Lubitsch, Coppola and Scorsese. Among the titles, the unforgettable "Matador" (1986) by Pedro Almodovar, "Kiss of the Spider Woman" (1985) by Hector Babenco and "Midnight Cowboy" (1969) by John Schlesinger.
Informazioni
Quando
from 12 July 2019
to 31 August 2019
POINT (12.5033064 41.8898717)
Contatti
Web site:
http://www.palazzomerulana.it/events/cinema-di-stelle-2-edizione/
Orari
da venerdì 12 luglio a sabato 31 agosto, ore 21.00
FUORINORMA EXTRA/PROGRAMMA DI CORTI SPERIMENTALI
Da venerdì 12 a domenica 14 luglio
La via neo-sperimentale del cinema italiano a cura di Adriano Aprà.
Partecipazione gratuita fino ad esaurimento posti disponibili.
NORDIC FILM FEST SUMMER 2019
da giovedì 18  a venerdì 26 luglio
Biglietto Unico 7 €
Il biglietto dà diritto alla proiezione e ad un calice di vino.
Prenotazione consigliata al numero +39 06 39967800
Diritti di prenotazione 2,00 €
CINEMA DELL'INVISIBILE 
da mercoledì 31 luglio a lunedì 12 agosto
Proiezioni e incontri con gli autori.
Biglietto Unico 7 €
Il biglietto dà diritto alla proiezione e ad un calice di vino.
Prenotazione consigliata al numero +39 06 39967800
Diritti di prenotazione 2,00 €
OPERA PRIMA 
da venerdì 16  a sabato 31 agosto
Biglietto Unico 7 €
Il biglietto dà diritto alla proiezione e ad un calice di vino.
Prenotazione consigliata al numero +39 06 39967800
Diritti di prenotazione 2,00 €
E' RINVIATA PER MOTIVI TECNICI A DATA DA DESTINARSI LA RASSEGNA CINEMATOGRAFICA "OPERA PRIMA- I FILM IN ESILIO", PREVISTA A PALAZZO MERULANA DA VENERDI' 16 A SABATO 31 AGOSTO

Condividi
Location
Cinema di stelle, Via Merulana, 121
41° 53' 23.5392" N, 12° 30' 11.9016" E