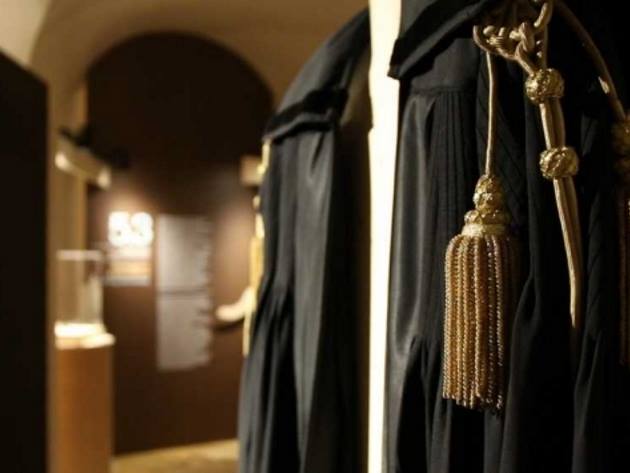 The exhibition  "Lessico Italiano. Volti e storie del nostro paese", set up inside the Vittoriano complex, aims to focus attention on what it means to be Italian today through stories, characters and images which have contributed to the construction of national identity.
The exhibition consists of seven sections and is part of a new program to enhance the monument, aiming to offer a unitary interpretation of the spaces, cultural and historical contents of the Vittoriano.
Conceived for a double reading, the real and the virtual one, the exhibit places the visitor at the center of an emotional and sensorial experience: through the words of four of the greatest Italian poets and writers (Dante, Petrarca, Boccaccio and Bembo), he is led through paths that highlight symbols and origins of the Italian language which, despite their different multiplicity, form a single lexicon.
Or, thanks to an app you can choose to be ideally taken by the hand of a writer, Eraldo Affinati, and listen to the objects with a story to tell, such as the judge Rocco Chinnici's robe, victim of organized crime .
There are also works of ancient art, such as the coin of the first century. B.C. engraved with a female figure assisted by Nike and the inscription "Italia" which opens the path to visitors or the so-called Togato di Petrara, and contemporary, like the works of Luigi Ontani, Carla Accardi, Giuseppe Uncini, Alighiero Boetti and Fabrizio Plessi.
Informazioni
Quando
from 20 June 2019
to 2 February 2020
POINT (12.48275 41.895357)
Contatti
Web site:
www.beniculturali.it/mibac/export/MiBAC/sito-MiBAC/Contenuti/MibacUnif/Comunicati/visualizza_asset.html_43403921.html
Orari
dal 20 giugno 2019 al 2 febbraio 2020
Tutti i giorni ore 9.30 - 19.30 (ultimo ingresso 18.45)
Chiuso il 1°gennaio e il  25 dicembre

Condividi
Location
Lessico italiano. Volti e storie del nostro Paese, Piazza Venezia
41° 53' 43.2852" N, 12° 28' 57.9" E