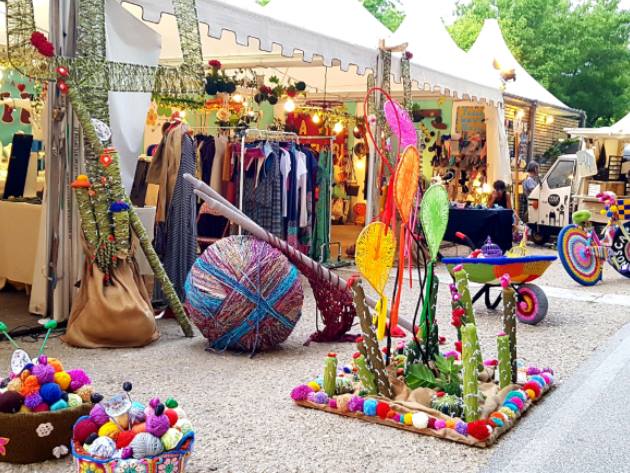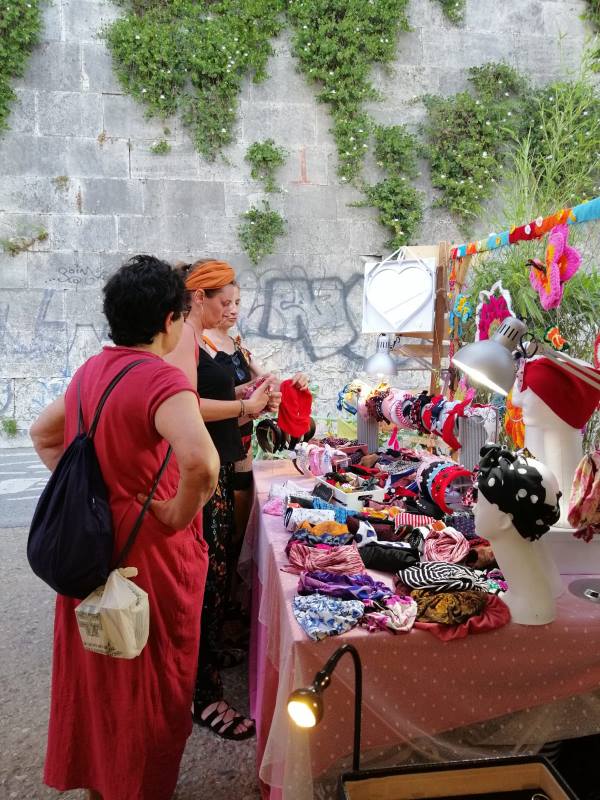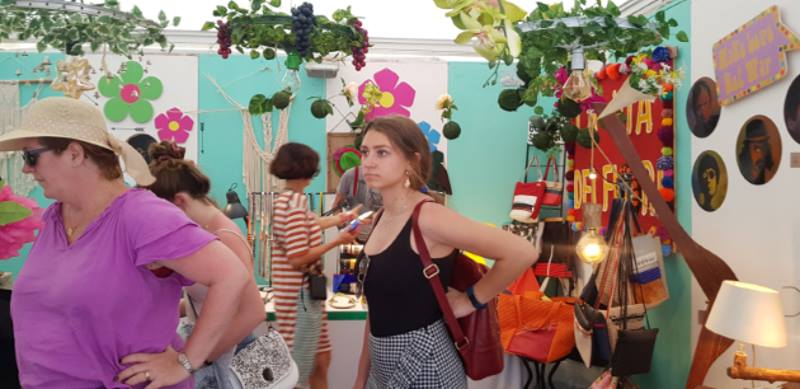 Lungo il Tevere...Roma 2019 hosts the colorful Hippie Market, the iconic Made in Rome craft market where the most creative minds meet and merge.
Originality and creativity reign supreme on this stretch of the Lungotevere, amidst delightful handcrafted settings, giant cacti, crocheted bicycles, a maxi ball with 2 three meters long knitting needles, wheelbarrows and a wool portrait of Frida Kahlo.
Every week, the lively market will present 8 artisans and stylists on a rotating basis, giving life to an urban and dynamic melting-pot where to meet and find everything: versatile and original clothing and accessories; hand-painted jeans; home décor made from natural and recycled materials; colourful dream catchers; vintage painted and colourful leather bags evoking monuments and details of the history of Rome; glasses, bands and turbans; portraits of musical artists, whose faces are composed of song lyrics with the calligram technique. And then, many, many jewels! Delicate and romantic rustic-inspired ornaments made from dried leaves and flowers, from ancient materials and disused objects, unique silver and bronze pieces with contemporary design, inspired by cinema and dialects, made from buttons, vintage and retro accessories, or created by the union of beautiful natural stones and precious metals.
The path is also enriched by photographic and cinematographic exhibitions, literary and musical quotations from the works and the characters that have made the Rome great, and by La Recycle, a luminous art installation dedicated to the world of bikers, created by the Hippie Market with the artist Fabrizio Middei.
Over 50 wheels, chains, bike gears found in landfills, or abandoned, have been reassembled, recycled, reused and transformed into chandeliers and lamps to create incredible light points and transmit to children the ecological culture of recycling.
Informazioni
Quando
from 7 June 2019
to 25 August 2019
POINT (12.478844 41.888233)
Contatti
Facebook:
https://www.facebook.com/romamercatini/
Orari
dal venerdì 07 giugno a domenica  25 agosto 2019
Ore 19.00 - 02.00

Condividi
Location
L'Hippie Market conquista il Lungotevere, Lungotevere Ripa
41° 53' 17.6388" N, 12° 28' 43.8384" E