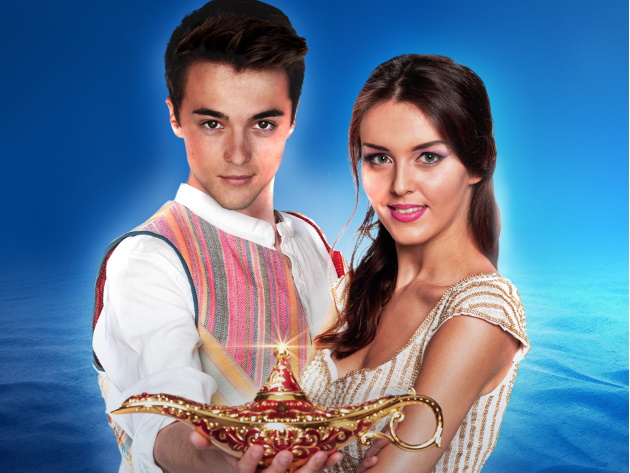 Following the great success of last years' "Rapunzel il musical" and "La Regina di Ghiaccio il musical", a new musical conceived and directed by Maurizio Colombi will be presented on the Teatro Brancaccio stage as a national premiere. "Aladin il musical geniale" is a fun-filled and colourful show for all ages that is freely inspired by one of the most famous tales of the "One Thousand and One Nights".
Going through a roller-coaster ride of love, laughter and misunderstanding, the musical follows the magical adventures of the clever Aladin, Jasmine, Jafar and the Genius of the Lamp. New characters make the story even more compelling: the Genius of the Ring, Jasmine's maid, the trained monkey, Jafar's assistant, guards and concubines.
The show has a romantic Middle Eastern setting with some Bollywood-style influences regarding music, choreography, and costumes. Original songs are accompanied by Cheb Khaled's pop raï, Italian songs, and international medley.
The scenography has a great visual impact, with 24 scenes that appear and disappear as if by magic with spectacular lighting design. Landscapes and settings are enriched by special effects, for example, the flight of Aladin and Jasmine on the flying carpet and the apparitions and disappearances of the two genes. The cast is composed of 20 performers with choreography by Rita Pivano. The scenes are signed by Alessandro Chiti, the costumes by Francesca Grossi, the musical direction is by Davide Magnabosco.
Directed by Maurizio Colombi
Original music and arrangements by Davide Magnabosco, Paolo Barillari, Alessandro Procacci
With Leonardo Cecchi - Aladin and Emanuela Rei - Jasmine
Informazioni
Quando
from 2 October 2019
to 1 December 2019
POINT (12.500957 41.893716)
Contatti
Online purchase:
https://www.ticketone.it/biglietti.html?affiliate=ITT&doc=artistPages%2Ftickets&fun=artist&action=tickets&erid=869277&includeOnlybookable=false&x10=1&x11=aladin
Web site:
www.teatrobrancaccio.it/spettacoli/stagione-2019-2020/aladin/
Orari
Dal 2 ottobre al 1°dicembre 2019
Fino al 9 ottobre dal mercoledì al venerdì 20.45
sabato doppio spettacolo ore 16.00 e 20.45
domenica ore 16.00
Dal 17 ottobre giovedì e venerdì ore 20.45
sabato doppio spettacolo ore 16.00 e 20.45
domenica ore 16.00

Condividi
Location
Aladin il musical geniale, Via Merulana, 244
41° 53' 37.3776" N, 12° 30' 3.4452" E