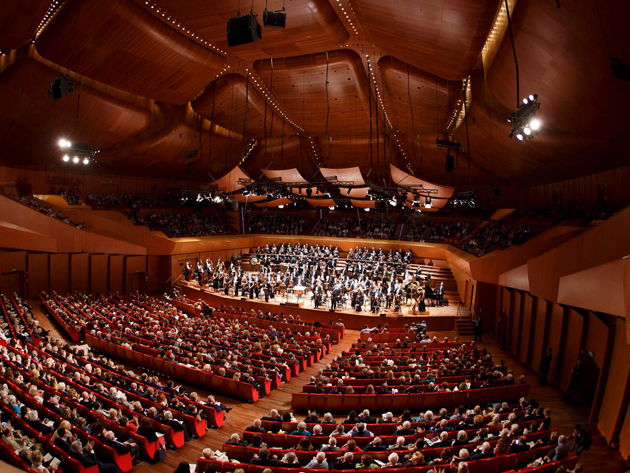 The Chamber Music Season 2019-2020 of the Accademia Nazionale di Santa Cecilia brings on the stage prestigious artists and an exciting and extraordinary concerts program, that sees great returns and awaited participation.
The opening, scheduled on October 28th and entirely dedicated to Schumann, is performed by Andrea Lucchesini who, together with Maurizio Pollini, Martha Argerich, Grigory Sokolov, Ivo Pogorelich, Nikolai Lugansky, Evgeny Kissin and Beatrice Rana, represents the pianists of great appeal of the season.
The Greek violinist Leonidas Kavakos, also protagonist of the Symphonic Season, with the pianist Enrico Pace will perform the complete ten Sonatas for violin and piano by Beethoven, while Giovanni Antonini continues the cycle "Haydn 2032" with two appointments dedicated to the symphonies of the Austrian composer .
Season grand finale with the Baroque Academy and the Chorus of Santa Cecilia conducted by Federico Maria Sardelli in the "Juditha Triumphans", Vivaldi's fascinating and sumptuous oratory.
Photo by Accademia Nazionale di Santa Cecilia
You may also be interested in

Condividi
from 10 December 2019
to 13 November 2020
Auditorium Parco della Musica

Condividi
Informazioni
Quando
from 28 October 2019
to 13 May 2020
POINT (12.4751908 41.9291165)
Contatti
Email:
biglietteria@santacecilia.it
Facebook:
www.facebook.com/pages/Accademia-Nazionale-di-Santa-Cecilia/154931203886
Instagram:
www.instagram.com/accademiadisantacecilia/
Telephone:
Infoline 06 8082058
Twitter:
https://twitter.com/santa_cecilia
Web site:
www.santacecilia.it
Web site:
http://www.santacecilia.it/concerti_e_biglietti/calendariopdf.html
Orari
Dal 28 ottobre 2019 al 13 maggio 2020
Inizio concerti ore 20.30
Calendario 2019
lunedì 28 ottobre - Sala Santa Cecilia
mercoledì 6 novembre - Sala Sinopoli
mercoledì 13 novembre - Sala Sinopoli
mercoledì 20 novembre - Sala Santa Cecilia
mercoledì 27 novembre - Sala Sinopoli
domenica 1 dicembre - Sala Santa Cecilia
lunedì 9 dicembre - Sala Santa Cecilia
Calendario 2020
mercoledì 8 gennaio - Sala Sinopoli
mercoledì 22 gennaio - Sala Sinopoli
mercoledì 29 gennaio - Sala Sinopoli
lunedì 3 febbraio - Sala Santa Cecilia
mercoledì 12 febbraio - Sala Sinopoli
mercoledì 18 marzo - Sala Sinopoli
mercoledì 25 marzo - Sala Sinopoli
lunedì 30 marzo - Sala Santa Cecilia
lunedì 6 aprile - Sala Santa Cecilia
mercoledì 22 aprile - Sala Sinopoli
mercoledì 13 maggio - Sala Sinopoli

Condividi
Location
Accademia Nazionale di Santa Cecilia - Stagione Musica da Camera 2019-2020, Viale Pietro De Coubertin, 30
Viale Pietro De Coubertin, 30
41° 55' 44.8212" N, 12° 28' 30.6876" E