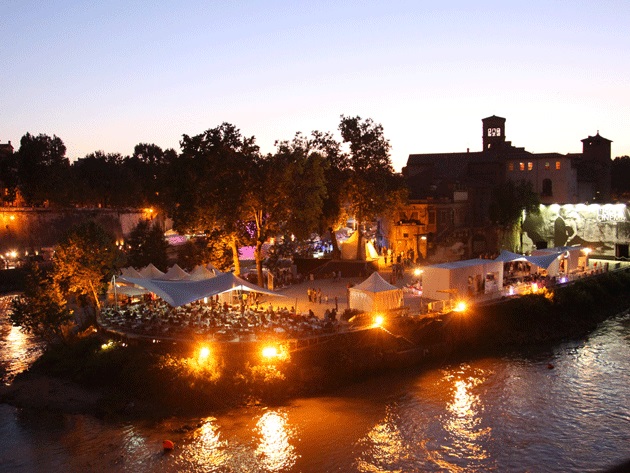 From June 13 to September 1, "L'Isola del Cinema" Film Festival returns on the Tiber Island for over 80 evenings with a brand new program and previews, competitions, awards, masterclasses, meetings with directors and actors.
Wide space also to Music, Theater, Literature, Visual Arts and Poetry, the arts and languages that, as sources of inspiration for the Cinema, enrich its form and content.
For its XXV edition, the stone boat-shaped island focuses on Innovation, Environment and Tourism. With the new technologies, it offers an even wider and more engaging cinematographic and cultural offer: from the great classics to the new emerging directors, from auteur films to the immersive cinema experience. It looks at tourism as a fundamental lever in sharing knowledge and cultures and as an attractive center for an international audience.
The island is also multicultural and, with the section created in collaboration with embassies and cultural institutes, "Isola Mondo", offers a way to discover other countries cinema with a lively and exciting spirit. The films will be screened with English subtitles, where present.
The highly anticipated opening event will be dedicated to the great Maestro Sergio Leone and to his Cinema, on the occasion of the 90th anniversary of his birth.
For the duration of the Festival the exhibition "Rome City of Film" displays the eternal images, sculpted in the collective memory, that have linked Rome to world cinema that exalted it by choosing the City as a background of beauty in the famous films that have made history.
The photographic exhibition tells the Roman locations chosen by the great Masters of Italian cinema. A journey that aims to restore urban and extra-urban scenarios of the City as places to tell the most diverse stories, including author's films and popular cinema.
The rich programming begins with "Poveri ma belli" (1957), the film with which Dino Risi made an unforgettable tribute to the Capital; necessarily passes for "La Grande Bellezza" by Sorrentino, entirely shot in palaces, terraces, gardens of a decadent and beautiful Rome; and eventually arrives to the suggestions of the most popular Rome sets with the work of the talented director Sydney Sibilia.
"L'Isola del Cinema" was born in 1995 to celebrate the centenary of the Seventh Art Birth in one of the most suggestive places in Rome: the Tiber Island, declared Humanity's Artistic Heritage by UNESCO.
In 24 editions The Festival has screened more than 5000 films, many of which are unpublished and, in addition to the great names of Cinema and of the world of entertainment and culture, has hosted more than 100 countries that have chosen "L'Isola del Cinema" as the ideal stage to present their culture and previews.
Agreement with Roma Pass.
You may also be interested in
Informazioni
Quando
from 13 June 2019
to 8 September 2019
POINT (12.477263 41.890057)
Contatti
Email:
segreteria@isoladelcinema.com
Facebook:
https://www.facebook.com/isoladelcinema/
Web site:
https://www.isoladelcinema.com/
Orari
Dal 13 giugno all'8 settembre 2019
Tutti i giorni dalle ore 18.00 alle 02.00

Condividi
Location
L'Isola del Cinema - XXV Edizione, Ponte Cestio
41° 53' 24.2052" N, 12° 28' 38.1468" E