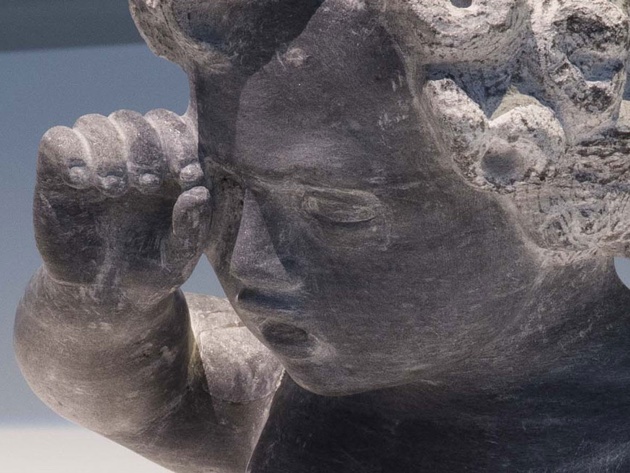 A putto.
A naked child, to whose big toe a scorpion is clinging, with his hands to his eyes in the gesture of the telescope to focus the vision.
It is the work of Enzo Cucchi, artist among the main exponents of the Transavanguardia, on show at MAXXI museum until 26 January 2020.
In the new project designed specifically for the spaces of the Sala Gian Ferrari, there is the only painting of the putto, with which Cucchi reinterprets in a new contemporary vision the classic iconography of the naked child, with references to the history of art, from Roman statues to the great Baroque frescoes.
In the work, Cucchi blends art and myth, science and astrology: the child's game is threatened by the presence of the poisonous animal, which according to Greek mythology had killed the hunter Orion because of his pride, where the scorpion is symbol of the unknown and death, allegory of mystery and the occult.
After a self-taught training, Enzo Cucchi made his debut in conceptual art and then came to figurative art and became one of the most influential figures on the contemporary art scene.
In the works on canvas, accompanied by many drawings and often presented by poetic texts written by the artist himself, he recovers with the myth, the history of art and literature (for example, we recall "Cani with tongue for fun", 1980 and "Hero senza testa ", 1981;" Both by sea and by land ", 1980), giving life to compositions of great intensity where metaphor and dream come together.
The artist has made numerous personal exhibitions and has taken part in collective exhibitions, in important Italian and international exhibition spaces such as the Solomon R. Guggenheim in New York, the Tate Gallery in London, the Center Georges Pompidou in Paris, the Royal Palace in Milan, the Sezon Museum of Art in Tokyo and the French Academy in Rome.
Informazioni
Quando
from 17 October 2019
to 19 January 2020
POINT (12.4652138 41.9277884)
Contatti
Online purchase:
https://maxxi.vivaticket.it/ita/event/maxxi-open-ticket/107715
Web site:
www.maxxi.art/events/enzo-cucchi/
Orari
Tuesday-Friday: 11:00  - 19:00;
Saturday: 11.00 - 22:00;
Sunday: 11:00  - 19:00;
Closed: Monday, 25 December.
Last admission 1 hour before closing time.

Condividi
Location
Enzo Cucchi, Via Guido Reni, 4 A
41° 55' 40.0368" N, 12° 27' 54.7704" E