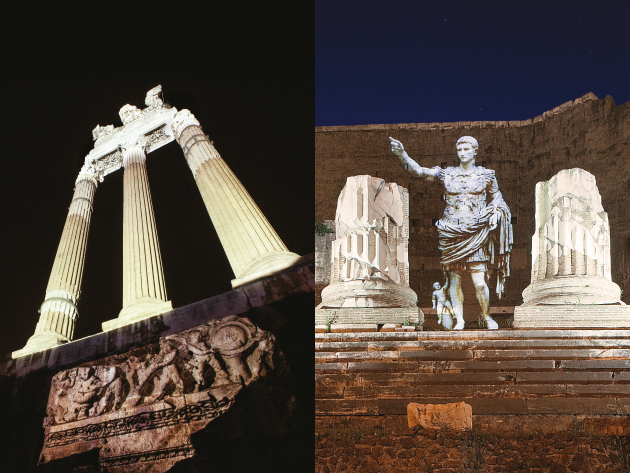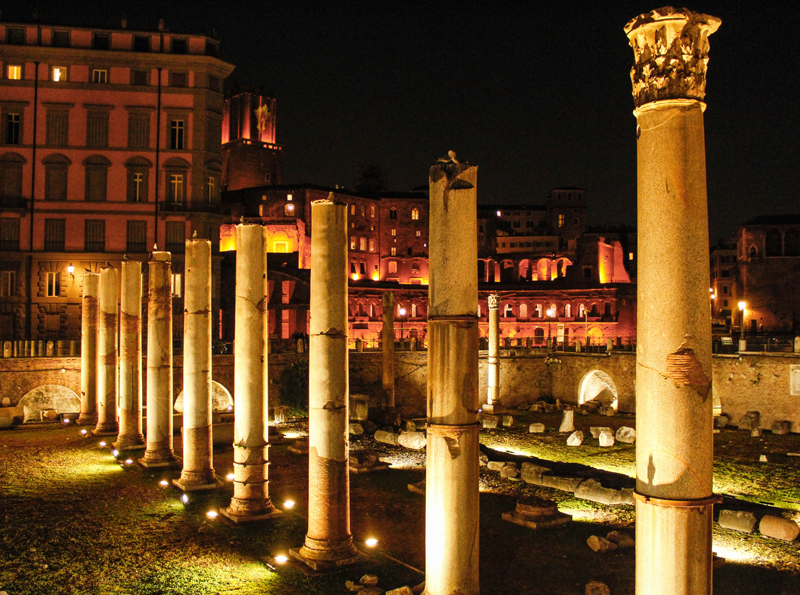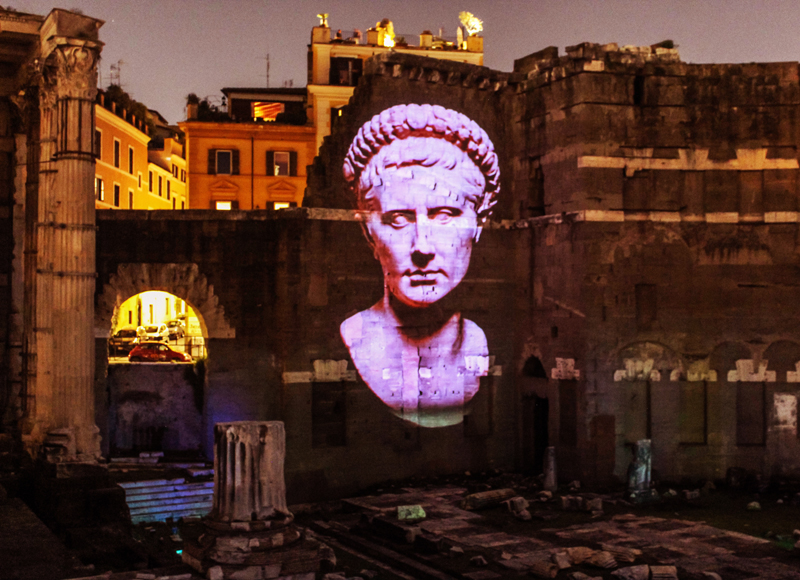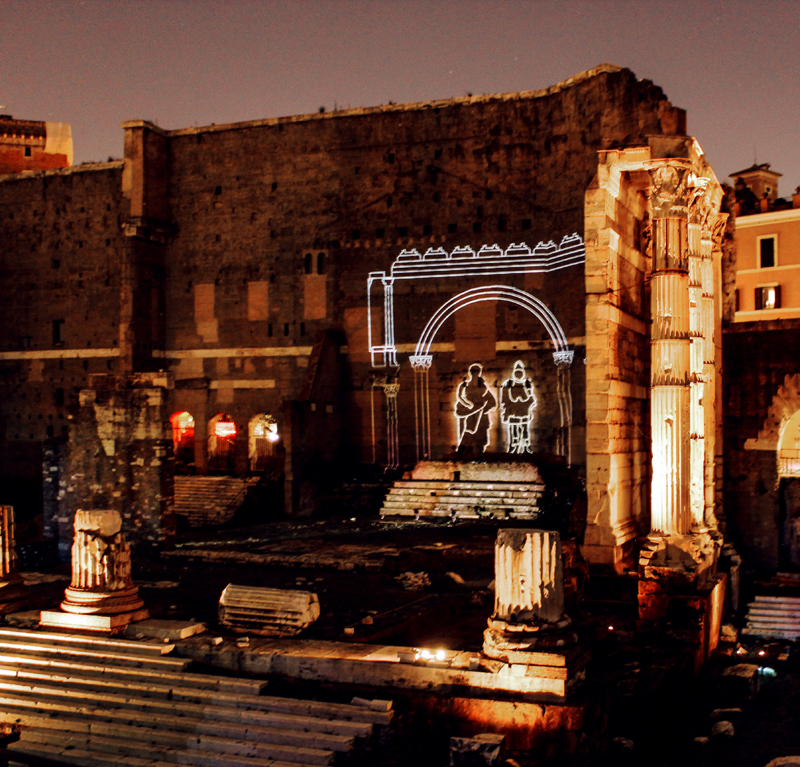 Forum of Augustus
While spacing on various aspects of the Roman world, the story is still anchored to the site of Augustus, creatively using the remains of the Forum to try to let the stones "speak" for themselves. Besides the faithful reconstruction of the area, with special effects of all kinds, the story focuses on the figure of Augustus, whose giant statue, over 12 meters high, dominated the area next to the temple.Through special audio systems with headphones the spectators will listen to music, special effects and the story narrated by Piero Angela in 8 languages (Italian, English, French, Russian, Spanish and Japanese, German and Chinese).
The spectators will be accompanied by the voice of Piero Angela and by some amazing videos and reconstructions that show places as they looked like at the time of Augustus: a thrilling representation which combines historical and scientific rigor with entertainment.
Forum of Caesar
The story narrated by Piero Angela, accompanied by reconstructions and videos, starts from the history of the excavations made for the construction of Via dei Fori Imperiali, when an "army" of 1,500 construction workers were mobilized in an unprecedented work: razing to the ground an entire neighborhood and digging out the area until the level of ancient Rome was reached.
Thus the story starts from the remains of the majestic Temple of Venus, built by Julius Caesar after his victory over Pompey, to lead the spectators into the excitement of the daily life in Ancient Rome, when officials, plebeians, militaries, matrons, consuls and senators strolled under the arches of the Forum. Ancient taberne reapper among these colonnades, they were used as offices and shops of the Forum and, among these, of particular interest is the shop of a nummulario, a sort of currency exchange point of the timeThere was also a large public toilet of which there are curious remains.To watch the traveling show at the Forum of Caesar, the access will be through the staircase located near the Trajan's Column.
To reach the Forum of Caesar the public will pass through the Forum of Trajan on a walkway and under the underground tunnel of the Imperial Fora, opened for the first time after the excavations of the last century.
The visit seeks to evoke the role of the Forum in the life of the Romans but also the figure of Julius Caesar.
Informazioni
Quando
from 17 April 2019
to 3 November 2019
POINT (12.486138 41.8945557)
POINT (12.483934 41.895867)
Contatti
Email:
viaggioneifori@060608.it
Facebook:
https://www.facebook.com/ForodiAugusto2000/
Instagram:
https://www.instagram.com/viaggioneifori
Online purchase:
http://ticket.museiincomuneroma.it/combinato-fori/
Telephone purchase:
+39 060608 (tutti i giorni dalle 9.00 alle 19.00)
Twitter:
https://twitter.com/viaggioneifori
Web site:
http://www.viaggioneifori.it
Orari
Forum of Augustus
From 17 April to 30 April: h8.20pm – 9.20pm – 10.20pm
From 1 May to 31 August: h9.00pm – 10.00pm – 11.00pm
From 1 September to 30 September: h8.00pm – 9.00pm – 10.00pm
From 1 October to 3 November : h7.00pm – 8.00pm – 9.00pm
The ticket office opens 1 hour before
Duration: 40 minutes
Forum of Caesar
From 17 April to 30 April: Sunday-Friday 8.20pm – 10.20pm, Saturday 8.20pm - 10.40pm
From 1 May to 31 May: Sunday-Friday 8.40pm – 11.00pm, Saturday 8.40pm - 11.20pm
From 1 June to 31 July: 9.00pm – 11.40pm
From 1 August to 31 August: 8.40pm – 11.40pm
From 1 September to 30 September: Sunday-Friday 8.00pm – 11.20pm, Saturday 8.00pm – 11.20pm
From 1 October to 31 October : 7.00pm – 10.20pm
From 1 November to 3 November: Sunday-Friday 6.20pm – 10.00pm, Saturday 6.20pm – 10.00pm
The ticket office opens 30 minutes before
Shows every: 20 minutes
Duration: 50 minutes

Condividi
Locations
Viaggi nell'antica Roma , Via Alessandrina
41° 53' 40.4016" N, 12° 29' 10.0968" E
Viaggi nell'antica Roma , Foro Traiano
41° 53' 45.1212" N, 12° 29' 2.1624" E