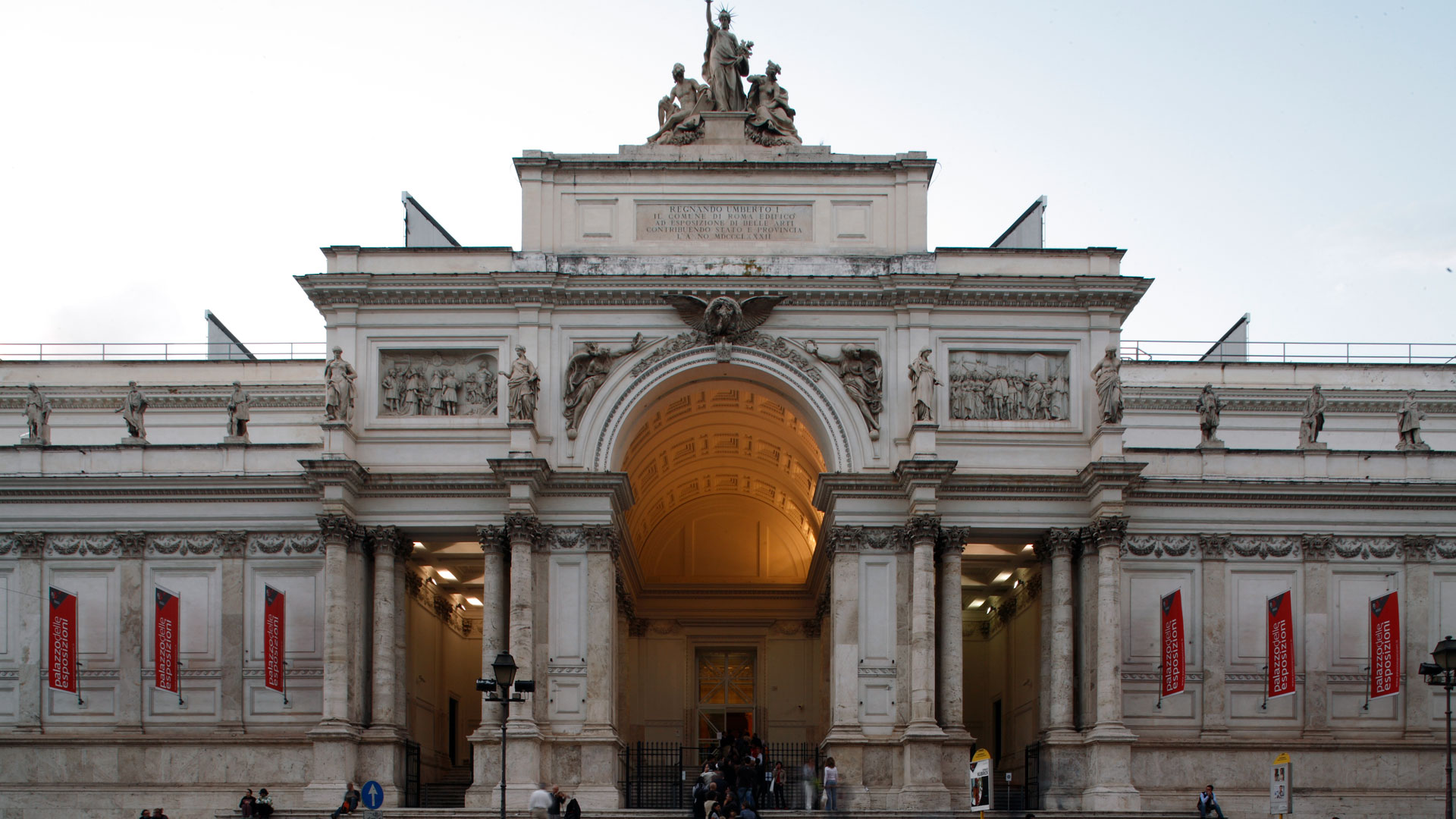 Palazzo delle Esposizioni is the largest interdisciplinary exhibition area in the centre of Rome: more than 10,000 square metres of space on three floors, Level 0, 1 and 2, host cultural events and offer services to visitors.
The Palazzo will also have a 139-seats Cinema, an Auditorium (multimedia hall for 90 people) and a Forum (multifunctional hall), as well as a 290 sq.m. café, a 400 sq.m. restaurant for 240 people and a 470 sq.m. bookshop.After five years of restoration work and upgrading of its systems and facilities, Palazzo delle Esposizioni is a space for culture and ideas at an international level, offering visitors high quality projects with excellent technological standards, and efficient and modern hospitality facilities for guests. It is one of the most up-to-date cultural centres, engaging in continuous fruitful exchanges with the most important international cultural institutions.With the reopening of Palazzo delle Esposizioni, the Azienda Speciale Palaexpo confirms and strengthens its primary role in Italy as an organization offering integrated services: from art exhibitions to film festivals, from theatre to photography, and from music to presentations of books and events.
Informazioni
Indirizzo
POINT (12.490471 41.898935)
POINT (12.489286 41.899826)
POINT (12.489504 41.8995108)
POINT (12.489504 41.8995108)
Orari
Sunday, Tuesday, Wednesday and Thursday from 10:00am to 8:00pm.
Friday and Saturday from 10:00am to 10:30pm.
Monday closed.
Admission is allowed up to one hour before closing. 
 
AntonelloColonnaOpen restaurant is open from 12:30pm to 3:30pm and from 8:00pm to 11:00pm. Closed on Sunday evening and closed on Monday for lunch and dinner.
 
The Cafeteria is open Tuesday to Sunday from 10:00am to 5:00pm. It is closed on Monday.
 
The Bookstore follows the opening hours of the exhibition halls.
Contatti
Email:
info.pde@palaexpo.it
Facebook:
www.facebook.com/PalazzoEsposizioni
Instagram:
www.instagram.com/palazzoesposizioni
Online purchase:
www.coopculture.it/heritage.cfm?id=57
Telephone:
info e prenotazioni +39 06 39967500 (Coopculture)
Telephone:
848 082408 (scuole)
Twitter:
http://twitter.com/Esposizioni
Web site:
www.palazzoesposizioni.it
Servizi
Accessibile ai disabili
Auditorium
Caffetteria
Guardaroba
Laboratorio d'arte
Libreria
Sala Cinema
Servizi igienici per disabili

Condividi
Locations
CHIUSO - Palazzo delle Esposizioni, Via Nazionale, 194
41° 53' 56.166" N, 12° 29' 25.6956" E
CHIUSO - Palazzo delle Esposizioni, Via Piacenza, snc
41° 53' 59.3736" N, 12° 29' 21.4296" E
CHIUSO - Palazzo delle Esposizioni, Via Milano, 13
41° 53' 58.2396" N, 12° 29' 22.2144" E
CHIUSO - Palazzo delle Esposizioni, Via Milano, 9A
41° 53' 58.2396" N, 12° 29' 22.2144" E