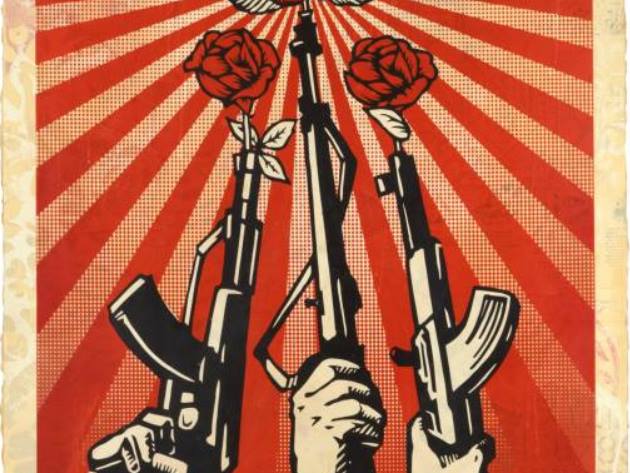 Hosted at the Galleria d'Arte Moderna of Roma Capitale, the exhibition comes to life on Lieu.City and becomes virtual. The exclusive project is curated by Shepard Fairey himself, one of the best known urban artists in the world as Obey, together with Claudio Crescentini, Federica Pirani and the Wunderkammern Gallery.
The American artist -  an absolute experimenter of languages, styles, and political messages through art - wanted to create a unique and unrepeatable concept specifically for the GAM. The exhibition display thirty of his recent original graphic works - with which he retraces many of his dissenting themes, such as the struggle for peace and against racial violence, the defence of human and gender dignity, and the protection of the environment - in dialogue with important works by other artists from the collection of contemporary art of the Capitoline Superintendence.
Thanks to the virtual reality created by Lieu.City, the visitors have the opportunity to move from one environment to another and to move easily between the three floors of the museum, in an innovative and 360° space, admiring the works of the exhibition "Shepard Fairey/3 Decades of Dissent" and the GAM, accompanied by exclusive multimedia content, such as descriptions and video contributions, to enjoy a high quality international artistic experience.
Informations
When
from 16 December 2020
to 26 March 2021
POINT (12.485674 41.904062)
POINT (12.4865721 41.9037349)
Contacts
Web site:
https://beta.lieu.city/
Timetables
Mostra virtuale dal 16 dicembre 2020 al 26 marzo 2021

Condividi
Locations
Mostra virtuale: 3 Decades of dissent, Via Francesco Crispi, 24
41° 54' 14.6232" N, 12° 29' 8.4264" E
Mostra virtuale: 3 Decades of dissent, Via Zucchelli, 7
41° 54' 13.446" N, 12° 29' 11.6592" E