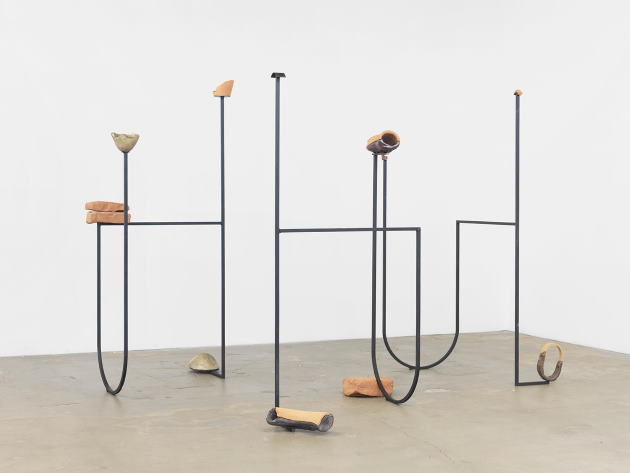 Part of SUPPLEMENT, a series of projects including exhibition and other initiatives that will accompany the future programming of the Museum for Preventive Imagination, Phanos Kyriacou's first solo exhibition in Italy has been created for the outdoor spaces of the museum's central courtyard.
The works on display are conceived as a large installation transforming the area into a collection of images, signs, meanings. Composed of parts with different weights and forms (plaster, alabaster resin, steel, bronze, aluminium, epoxy resin, wood), the works act as reciprocal presences, creating an environment of possible, ever-changing relationships. Combined together, these object-tools are thus able to assume different behaviors and invite visitors to slowly penetrate the different groups, investigating details and exploring the relationships between conditions and states of matter, typical of Kyriacou's work.
at. this moment communicates the relevance of the preposition at which denotes the time when an event is taking place, what we are looking at, and a specific state or condition.
Informations
When
from 15 October 2020
to 15 November 2021
POINT (12.5031051 41.9136996)
Contacts
Web site:
https://www.museomacro.it/it/supplemento/phanos-kyriacou-at-this-moment/
Timetables
Temporaneamente sospesa in attuazione delle misure di contenimento anti Covid-19
------------------------------------------------------------------------------------------------------------
Dal 15 ottobre al 15 novembre 2020
Martedì - giovedì 11.00 - 20.00
Venerdì - sabato 11 .00 - 22.00
Domenica 11 .00 - 20.00
Chiuso il lunedì
La prenotazione è obbligatoria e può essere effettuata anche al museo

Condividi
Location
Phanos Kyriacou - at. this moment, Via Nizza, 138
41° 54' 49.32" N, 12° 30' 11.178" E