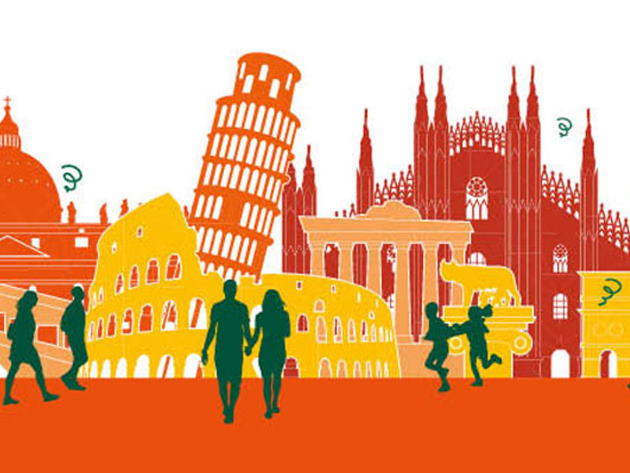 An extraordinary autumn weekend dedicated to beauty, to be protected and shared, and to the hidden treasures of Italy. With a program involving 300 cities and 600 little-known or normally inaccessible places, the tenth edition of the FAI Autumn Days opens the doors of palaces, villas, churches, castles, archaeological areas, industrial archeology venues, museums and military sites, but also parks, gardens and courtyards, which will be shown and told by the "Giovani" of the Fondo Ambiente Italiano.
Two of palaces around Piazza Colonna can be visited in Rome, for example: stuccos, works of art, tapestries and furnishings from various eras accompany us in the visit of Palazzo Chigi, seat of the Italian government, while the third floor of Palazzo Wedekind offers us an unprecedented shot from the top of the Column of Marcus Aurelius. On Via Giulia, the FAI Days let us to explore the courtyard, the monumental staircase and the noble floor of Palazzo Falconieri, a great example of the creativity and genius of Francesco Borromini, but the list of places open to the public also includes the elegant Casino del Bel Respiro in the Park of Villa Pamphilj and the Hotel St. Regis, a masterpiece of eclecticism and luxury. It will finally be possible to visit the Central Military Library with the imposing Memorial to the fallen in the Army Palace and the Foreign Sports Club, access to which is normally only allowed to members.
Visitors can contribute to enhancing and protecting the Italian artistic and cultural heritage with a donation of 3 euros or more (not mandatory) or by registering with the FAI, both online and in the various squares of Italy during the event. For members, exclusive visits and reserved access are planned. Visits are carried out in compliance with anti COVID-19 regulations: all sites, including those outdoors, can only be accessed with a Green pass (not mandatory under 12 years of age). Booking is recommended. For more information, visit the official website.
Informations
When
from 16 October 2021
to 17 October 2021
Contacts
Facebook:
www.facebook.com/fondoambiente
Instagram:
www.instagram.com/fondoambiente
Web site:
https://fondoambiente.it/il-fai/grandi-campagne/giornate-fai-autunno/i-luoghi-aperti/?search=roma%20%20
YouTube:
www.youtube.com/user/faichannel

Condividi