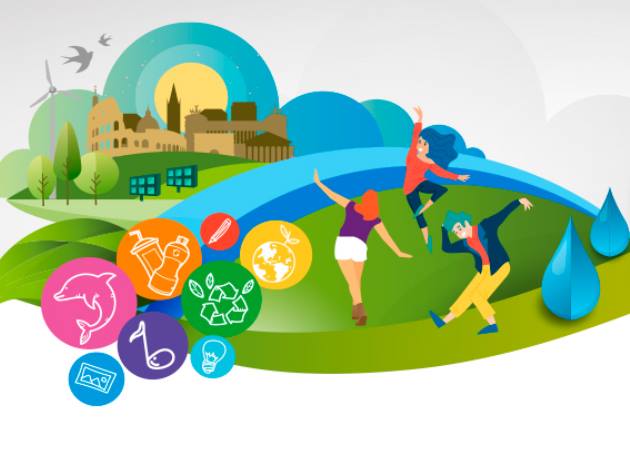 The event dedicated to environmental sustainability and the spread of green culture, "Fai la differenza… c'è il Festival della sostenibilità", is back at the Euroma2 Shopping Center, Esposizioni and Palazzo Brancaccio.
The rich program aims to tell, playfully and pleasantly, the urgent theme of environmental protection, through culture, art, games, and entertainment. The appointments include creative recycling art collectives, meetings, workshops, performances, and readings.
Among the flagship events is Contesteco, the exhibition and contest of sustainable art and design, scheduled until 26 October. The artistic challenge aims to involve art enthusiasts who can tell the themes of recycling, knowledge and use of alternative, clean and renewable energy sources, thanks to their creative abilities. The concept of this season's exhibition is "sustainability in the time of the coronavirus".
Until Sunday 11 October, in collaboration with the staff of the Regata Riciclata, the workshop/yard of the Recycled Car Race, the Grand Prix of recycled cars with zero-impact traction, is inaugurated. The Green Teams - who personalize and decorate their own body, a shopping trolley made of recycled plastic from Euroma 2's HyperCoop - can participate in an automotive sports Grand Prix. The race includes a route in compliance with the rules of the road and questions at pit stops that earn precious seconds on the 2030 Agenda.
In the format Da venti a trenta (From twenty to thirty), created in the Fab/Lab space of Storytelling, interviews with sector experts - journalists, entrepreneurs, managers - are scheduled every day; personalities from the world of science, culture and civil society -  explain, through their experiences and stories, the objectives of the 2030 Agenda.
Space for children's activities with stories, readings, fairy tales, representations about the protection of the environment and nature, and the itinerant puppet Theatre by Progetto Teatrini Viaggianti.
Recover and recycle in the kitchen with Pellegrino Artusi's recipes at Esposizioni: on Saturday 24 October, Anche la cucina è "eco" (Even the kitchen is "eco"), the Re Cook Show with the presence of Anna Maria Palma - Director of the TuChef Cooking School - and the collaboration by Alessandro Circiello - master of the "kitchen" as Executive Chef of spazio Esposizioni.
On Thursday 29 October, Palazzo Brancaccio hosts the meeting/workshop Le Buone Re-Azioni (The Good Re-Actions), to promote a cultural change in everyday lifestyle and to better understand the objectives of the 2030 Agenda.
All activities are free. Access to the events scheduled at the Euroma2 Shopping Center is free. However - where short stories, fairy tales, workshops and readings are planned, they will be managed in full compliance with anti-Covid regulations with entry up to a maximum number of people / children with reservations required. For the activities planned at Expositioni and Palazzo Brancaccio, free access is limited and by reservation in compliance with anti-Covid regulations.
The project is part of Romarama 2020, the cultural program promoted by Roma Capitale and created in collaboration with SIAE, with the support of Lazio Region.
Informations
When
from 24 September 2020
to 26 October 2020
POINT (12.461779 41.816495)
Contacts
Email:
info@failadifferenza.com
Facebook:
https://www.facebook.com/failadifferenzasostenibilita
Instagram:
https://www.instagram.com/fldifferenza/
Mobile phone:
334 6772115
Telephone:
+39 06 41735010
Web site:
https://www.failadifferenza.com/

Condividi
Location
Fai la differenza… c'è il Festival della sostenibilità, Via Cristoforo Colombo
41° 48' 59.382" N, 12° 27' 42.4044" E