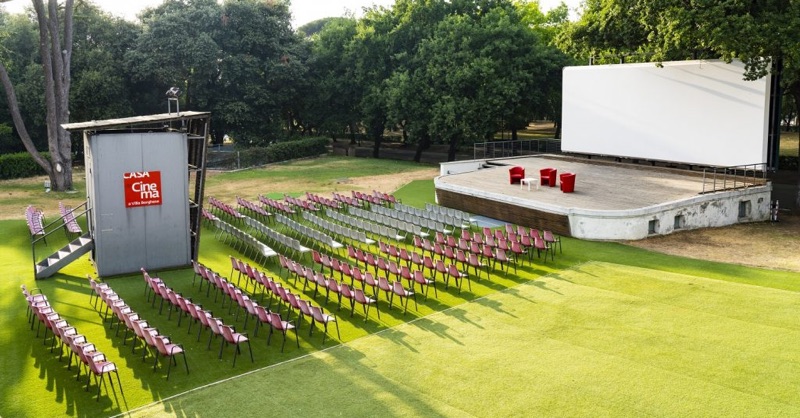 In compliance with security measures and interpersonal distancing, Casa del Cinema hosts "Caleidoscopio", the Summer cinema event to enjoy your evenings under the stars in Villa Borghese Park.
"The white sheikh" by Federico Fellini is opening the suggestive program on the Centenary of Alberto Sordi's birth.The Roman actor is at the centre of a focus "I mille volti di Alberto Sordi", a selection of the most significant, popular and original movies among his interpretations. On the screen is also shown "I vitelloni" which, in 1953, renewed the partnership between Alberto and Federico, the other great Centenary of this year. Two special evenings are dedicated to Fellini with the homage of Ettore Scola "Che strano chiamarsi Federico" (How strange to be called Federico) and an unforgettable title, "La dolce vita" 60 years later.
Numerous are the unmissable tributes on the program: Fernando Di Leo, with 5 titles loved by Quentin Tarantino; Ferzan Ozpetek, whose complete work is shown except for the last two films; the genius of speechless comedy Jacques Tati, with his six feature films restored and digitized; the Italian author's documentaries proposed with Cinema in Luce; the Cinema professions told by CSC students; the most beautiful opera conduction and the several international festivals.
Two are the special events characterising the dual vocation of Casa del Cinema: on the one hand, nine evenings dedicated to the Cinema professions; on the other, great music appointments in August with the Opera Festival and the most beautiful opera conduction from the most important international festivals.
Last "fil rouge" of a summer marked by 70 pleasant evenings under Villa Borghese pines is the traditional "cinema from the world", told by Asians and Romanians, Lithuanians and Albanians, Africans and Colombians, those for a special event in the name of Gabriel Garcia Marquez.
Special access procedures are provided for health and security protection of spectators. It is possible to book from two hours before the events with a check and seat assignments at the concierge of Casa del Cinema. Access is allowed 30 minutes before the screenings with a guaranteed place; shows will be free of charge as long as seats are available.
All information and complete program on the official website of Casa del Cinema and ROMARAMA
Informazioni
Quando
from 6 July 2020
to 14 September 2020
Orari
Attenzione
In seguito le informazioni per accedere alle proiezioni estivi:
- Prenotazione da due ore prima degli eventi con un controllo e una distribuzione dei posti attivata presso la portineria di Casa del Cinema.
- L'accesso è consentito 30 minuti prima delle proiezioni con posto garantito.
- Ingresso gratuito fino ad esaurimento dei posti disponibili.
Per tutte le info vedi: http://www.casadelcinema.it/?p=51570

Condividi