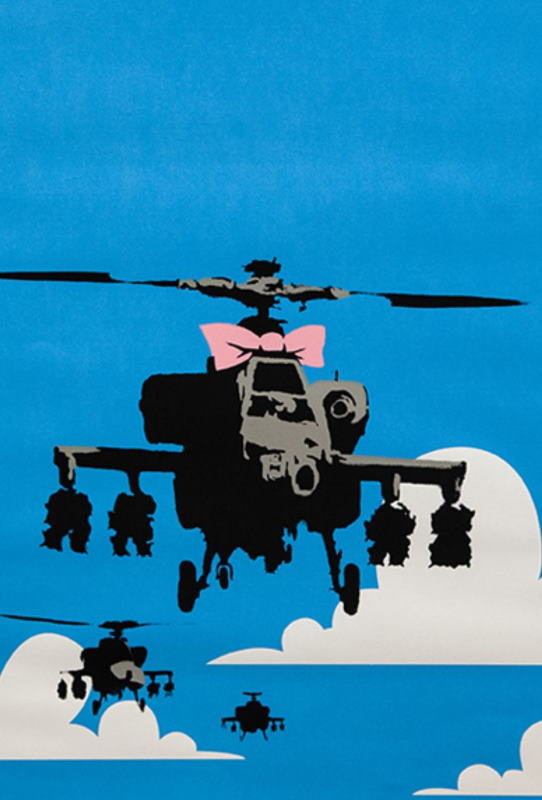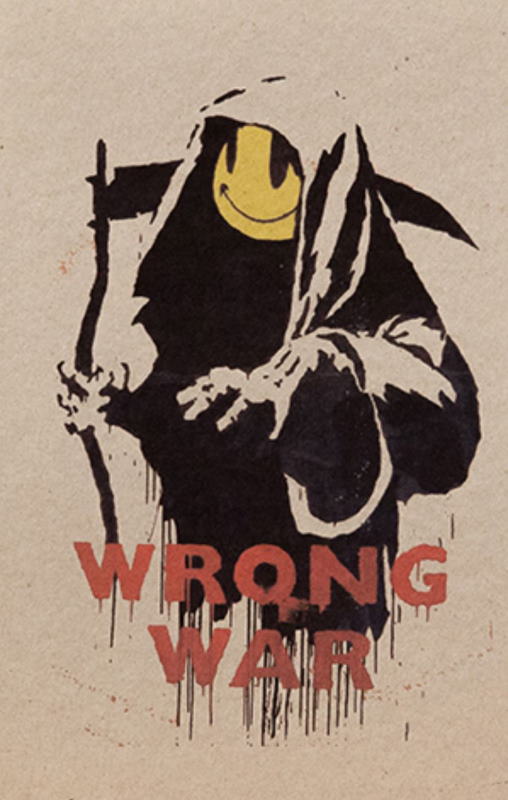 He is by all evidence the most famous incognito artist in the world: a shroud of mystery surrounds Bansky, who is not only one of the leading exponents of street art but also an absolute legend of our day and age. Beloved by the younger generations, he engages with a vast and heterogeneous public, above all thanks to his unconventional language, his ability to break the rules and take a position without compromise.
"Banksy. A Visual Protest", hosted by Chiostro del Bramante - DART and conceived by Madeinart in collaboration with 24 Ore Cultura, showcases more than 90 of his works, dating from 2001 to 2017 and coming from private collections. From "Love is in the Air" to "Girl with Balloon",  from "Queen Vic" to "Napalm", from "Toxic Mary" to "HMV", from the prints for Barely Legal, one of the most famous exhibitions ever realized, to the covers of LPs and CDs, they describe the work and thinking of Banksy, and documents the techniques he uses, above all the stencils.
Divided according to genres and themes, the works illustrate the strategies, meaning, and objectives of his messages, emphasizing the most revolutionary aspect of the British artist, that of protesting against the war, poverty, politics, and power used against people, conformism and consumerism, globalization and the damage done by man towards the environment and animals.
On the occasion of the 500th anniversary of Raphael's death, alongside the exhibition project, Chiostro del Bramante also presents the #ARTisalwaysCONTEMPORARY initiative to propose an unprecedented dialogue, 5 centuries later, between Banksy and the Renaissance painter, intending to demonstrate that art is always contemporary and able to convey messages, moods, emotions.
Informations
When
from 8 September 2020
to 11 April 2021
POINT (12.4714469 41.8997518)
Contacts
Online purchase:
www.2tickets.it/titoliese.aspx?ide=894&set=t
Web site:
www.chiostrodelbramante.it/post_mostra/banksy/
Timetables
8 September 2020 - 11 April 2021
From Monday to Friday 10 am – 8 pm; Saturday and Sunday 10 am – 9 pm; the tickets office closes one hour before.
Special opening
1 November, Sunday, ticket office open from 10 am to 8 pm
8 December, Tuesday, ticket office open from 10 am to 8 pm
24 December, Thursday, ticket office open from 10 am to 4 pm
25 December, Friday, ticket office open from 5 pm to 9 pm
26 December, Saturday, ticket office open from 10 am to 8 pm
31 December, Thursday, ticket office open from 10 am to 5.30 pm
1 January, Friday, ticket office open from 10 am to 8 pm
6 January, Wednesday, ticket office open from 10 am to 8 pm
4 April, Sunday, ticket office open from 10 am to 8 pm
April 5, Monday, ticket office open from 10 am to 8 pm

Condividi
Location
Banksy. A Visual Protest, Arco della Pace, 5
41° 53' 59.1072" N, 12° 28' 17.2092" E